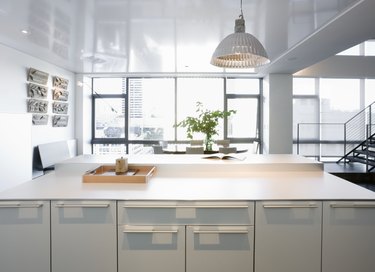 A diluted solution of bleach and hot water is often used to clean and disinfect countertops and appliances in kitchens and bathrooms. While it is generally safe to use on most nonporous materials, it can still cause stains if allowed to sit too long on laminate, granite, quartz or cement worktops. Older countertops that may have compromised protective layers of sealant are more prone to bleach stains. If bleach has marred the wide expanse of countertop in your kitchen or bathroom, then it can be removed or masked to make it less noticeable.
Bleach Stain on Laminate Worktop
Laminate is built to stand up to a lot of stain-producing liquids, from rich, red cherry juice to splashes of bleach. But not all laminate is created the same and some countertops will stain easier than others. If the corrosive liquid bleach has created a ring or removed pigment from the laminate countertop, then it can be masked or blended into the surrounding colored laminate.
For serious bleach stains, such as those on a dark laminate workspace, the area will need to be sanded and repaired. The bleach has penetrated the protective surface of the laminate and removed the coloring or pattern. Use a 150-grit sandpaper and a laminate repair kit to spread a shaded epoxy or acrylic adhesive onto the sanded area.
After sanding down and repairing, the laminate needs to be re-sealed. A durable laminate countertop polish can be sprayed on and easily applied. Keep the laminate well protected with a countertop polish to reduce the potential of a future bleach stain on the laminate worktop.
Bleach Stain on Black Granite Countertop
A bleach stain on a black granite countertop is unsightly and has more than likely removed the top protective coating over the natural stone. Bleach can be used to clean granite, but if the corrosive liquid is allowed to sit too long on the material, it can eat through the protective layer of sealant. This is particularly noticeable on dark or patterned granite or quartz countertops.
How to Clean Stuff suggests a poultice be used to remove the stain. Mix talcum powder or diatomaceous earth with hydrogen peroxide into a thick paste and apply this to the stain. Cover this ¼-inch-thick layer of poultice with plastic wrap and tape it down so that the area stays moist and the poultice stays active over the stain. Remove the plastic after 24 hours or overnight and allow it to dry thoroughly. Use a plastic scraper to take off the poultice and clean with soap and water.
Bleach Stains on Other Materials
If bleach has found its way to unprotected concrete or other material, then it can be lightened or blended into the unstained areas. This will make it less noticeable.
A bleach stain on a stone benchtop can be removed by making a poultice of talc powder and hydrogen peroxide and following the same steps as you would for granite. Always test a small area to ensure that the talcum powder and hydrogen peroxide mix won't further stain or damage the material.