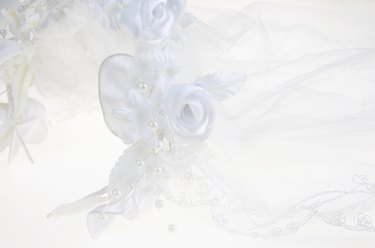 Delicate fibers such as white lace can become worn and dingy over time. White lace tends to accumulate yellow stains on it, but a common mistake that many people make with lace is to bleach it or submerse it in harsh chemicals. Lace is delicate, and, as such, must be treated delicately. If you want to attempt to remove yellow stains from white lace, the safest method is to use a gentle laundry detergent along with warm water.
Step 1
Fill a laundry detergent cap 1/2 full. Pour a drop of the laundry detergent from the cap directly onto the yellow stains on the white lace. The drop should be approximately the size of a quarter. If the yellow stains are larger, add more drops as needed. Pour the remainder of the laundry detergent from the cap into the wash basin.
Step 2
Rub the laundry detergent very gently into the white lace. Add warm water to the wash basin, along with ½ cup of borax. Put the white lace into the wash basin, and allow it to soak for approximately 30 minutes.
Step 3
Rub the white lace against itself to wash it, then rinse the lace with cold water until the water runs clear. Check to see if the yellow stains are gone. If they are not, repeat the process. If they are, proceed to step 4.
Step 4
Pour ½ cap of laundry detergent into the wash basin, and this time fill the basin with cold water. Place the white lace in the water and let it soak for 30 minutes again. When the 30 minutes are up, gently wring the excess water from the white lace, rinse in cool water, and hang it up to air dry.