Things You'll Need
Plastic bag

Stiff brush

Bucket

Water

Laundry detergent

Cloths

Spray bottle

Bleach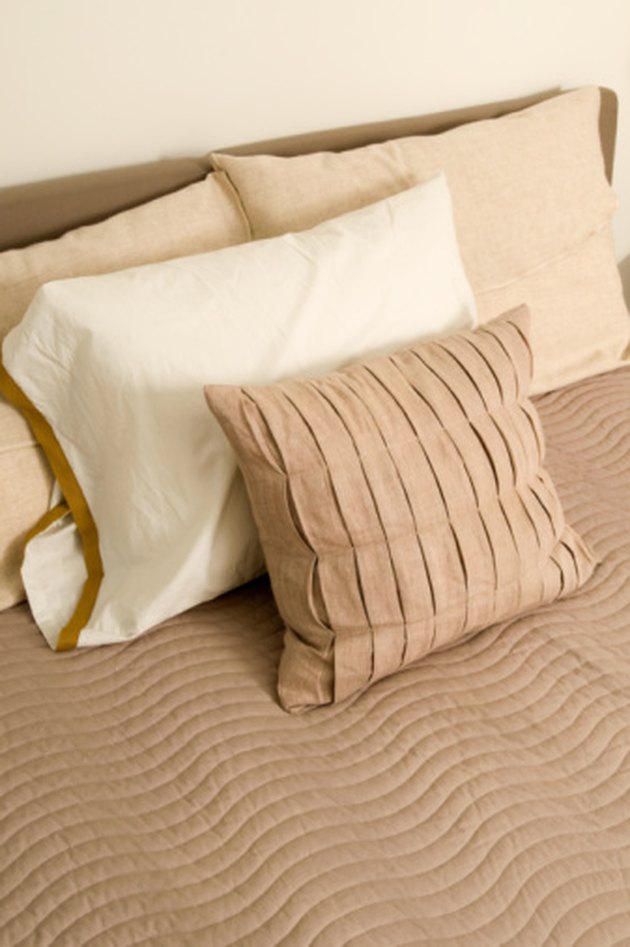 If your pillows have black mold on them, you will need to clean and fully sanitize them before they are safe to use again. Mold is a harmful substance that can make you sick if you inhale or touch it. You can also easily spread it around by moving the pillow from one place to another. As the mold spores spread, they will start to grow in other places around your home. To avoid health problems and potential spreading of the mold, take the time to sanitize the pillows.
Step 1
Place the pillow that has black mold into a plastic bag and seal. Carry the bag outside.
Step 2
Take the pillow out of the plastic bag once outside. Cleaning outside will reduce the chances of spreading the black mold.
Step 3
Allow the pillows to sit in the sun for a few hours if the black mold is wet.
Step 4
Use a stiff brush to scrape away any of the black mold that you can. Scrape directly into a sealable plastic bag. Seal the bag when you're finished and discard.
Step 5
Fill a bucket with 2 cups of water and about 1 tbsp. of liquid laundry detergent. Mix it around to create suds in the water.
Step 6
Blot the black mold stains that remain on the pillow with a clean cloth and the cleaning solution. Rinse by blotting with a cloth saturated in plain water.
Step 7
Fill a spray bottle with a mixture of bleach and water. The ratio should be ½ cup of bleach per gallon of water.
Step 8
Spray the pillow with the bleach solution. Spray it all over to be sure you sanitize everywhere the mold had been.
Step 9
Let the bleach solution dry on the pillow to complete the sanitizing process.
---
J. Johnson has been completing freelance writing work since September 2009. Her work includes writing website content and small client projects. Johnson holds a degree in English from North Carolina State University.