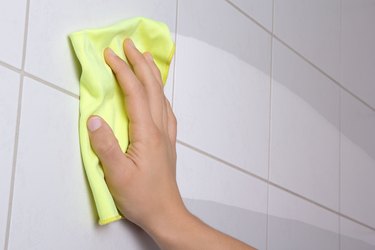 Linoleum flooring is known for being easy to install, durable and a cinch to clean. But when dye ends up on your floor, you'll need to switch up your cleaning routine. Dye stains can end up on linoleum flooring for a number of reasons, from food coloring and hair dye splatter to transferred color from area rugs or other dyed fabrics. Fortunately, lifting these stains can be done easily and with just a few items you may already have in your home.
What You Will Need
Whatever the type of dye stain it is that you have on your hands, there are a few tried and true ingredients that make lifting those messes more effective. White vinegar, baking soda, bleach, Magic Erasers, nail polish remover or paint thinner, hydrogen peroxide and alcohol are all common agents used to lift stains and are safe for use as a tile stain remover. Often, many of these items are used in combination with one another to produce the best results. In addition to your stain-treating ingredients, a sponge, bucket of warm water and soap are also needed to get that dye stain off of your floor.
How to Remove Dye
The first thing you'll want to do is lift as much of the dye off of the floor as possible, which you can do by lightly dabbing at any wet splotches with a clean towel. If you noticed your dye spill after it has been sitting for a while, or if you're dealing with a transfer of dye from something like an area rug, remove as much of it off of your linoleum surface as possible by using a scrubbing brush, soap and a small amount of water. Whatever soap and water will not lift can be treated by rubbing the area with rubbing alcohol or a mixture of 1 part white vinegar to 2 parts water.
If your linoleum will stand for it, you can continue to use a variety of stain-lifting ingredients to attack the stain from all angles until is has been lifted from your floor's surface. To check if your flooring can tolerate a tile stain remover or other type of cleaning agent, simply apply a small amount to a piece of flooring that isn't easily seen and let it sit for a bit. If your flooring doesn't become discolored, you are safe to proceed with the product you tested. Scrubbing stains with a cloth soaked in 3 percent hydrogen peroxide works for many people, as will baking soda or a white toothpaste, both of which can be applied with an old toothbrush or clean cloth.
Hair Dye Stain Remover
Bleach, white vinegar and nail polish remover will all work as a great hair dye stain remover. To remove hair dye from a tile floor, start by covering the affected area in a layer of bleach, letting it sit for about 30 minutes before wiping clean with a cloth. Then, repeat that process using white vinegar instead of bleach. Once your stain has been pre-treated, pour a small amount of nail polish remover or rubbing alcohol onto a cotton pad and scrub the area until the stain is removed.
If you're looking to remove organic hair dye like henna from your linoleum, you can try using an enzymatic cleaner, which also lifts stains and odors left behind by pets.
---
Krissy Howard is a NY-based freelance writer who specializes in creating content regarding pet care, skin care, gardening, and original humor. Her work has appeared on Reader's Digest, Hello Giggles, and Reductress.