Water stains accumulate on countertops when water is left to stand, at which time it dries into and stains the surface. This is especially present in porous surfaces such as granite. To remove the water stains, you must use mild ingredients that will safely take off the water stains without causing damage to the granite. There are a few commercial stain removal products designed for use on marble, but these are expensive, and typically not immediately on hand when you need to remove a stain. Instead, make a stain removal from basic household items.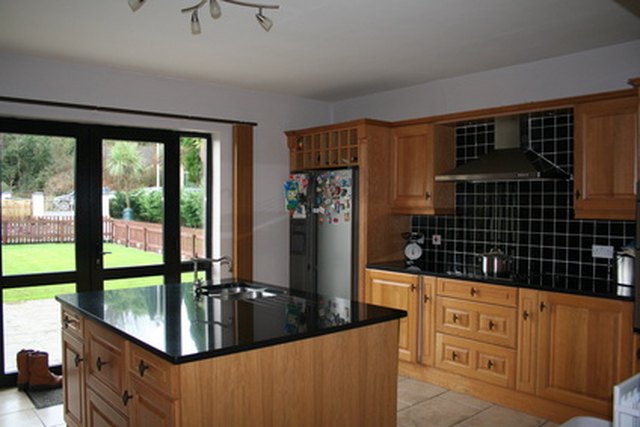 Step 1
Pour powdered whiting or baking soda into a bowl. Either will work well; however, baking soda is more commonly found in most homes. Powdered whiting can be purchased with cleaning supplies in most grocery and home improvement stores. Use enough powder to cover the stain.
Step 2
Stir hydrogen peroxide into the bowl, mixing until you have developed a thick, creamy paste.
Step 3
Spread a thick layer of this paste, or poultice as it is sometimes called, over the stain. Cover the entire stain with a 1/4-inch-thick layer of this poultice.
Step 4
Tear off a piece of plastic wrap that will cover the paste. Poke 10 small holes into the plastic wrap.
Step 5
Place the piece of plastic wrap over the poultice.
Step 6
Allow the poultice to dry fully, and scrub the poultice off with a wet cloth. All water stains should now be removed. Repeat the stain removal procedure if all water stains are not removed with the first application.