Putting on layers of paint to faded metal furniture, lamps and benches can seem like a good idea. But it doesn't always stick. It can start to look gunky or simply fall out of favor with your current color craze. Ridding galvanized metal from its peeling coat of paint takes patience, proper tools and a little elbow grease to get the job done correctly.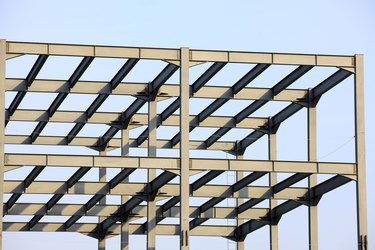 Why Paint Won't Stick
If the factory paint is peeling from your gutters, downspouts or metal furniture, it could be because of a few reasons. A layer of oil is usually applied to smooth galvanized steel to prevent white rust. This occurs when unprotected galvanized metal is allowed to be exposed to weather and the protective zinc coating becomes oxidized and turns to white rust. Eventually, the zinc metal is wiped out, and the metal will rust and weaken. If paint has been applied in too many layers and under humid conditions, it will become wrinkly and fall off in clumps.
Prep the Work Area
Put a drop cloth, newspapers, flattened cardboard boxes or other protective sheeting underneath where you plan to work or in a well-ventilated area where you can place the items to be worked on. You want to protect the surface from the chemical stripper. Remove all of the hardware that can hide paint. Have rubber gloves ready and wear safety glasses, long pants and shirt sleeves to protect your skin.
Start Stripping
Start small. Pour a little stripper into a non-reactive container, such as metal or glass. Apply the stripper to the metal in small, slow strokes so you don't splash the abrasive stripping agent. Give it a few minutes and you should begin to see the paint bubbling off the galvanized metal. Once you've coated a good area, use a scraper to chip off the paint. For nooks and crannies, use a scrubbing sponge or nylon brush to clean out the crevices. You may need to use a few coats of stripper to get to portions of hard-stuck paint or tiny fissures. Once the metal is free of paint, it will need a final rub down with mineral spirits. This gets rid of all the little leftover flecks of paint as well as the chemical stripper from your last round of scraping. Finally, rinse the metal thoroughly with water and wipe it down with a shop rag or other absorbent cloth. The metal is ready for a new coat of paint or sealant. Don't leave it too long without a protective layer or the integrity of the metal can be compromised.