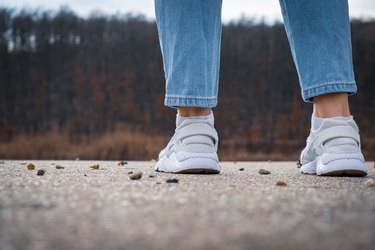 Nike's legendary "Air" sneaker technology began with the Tailwind in 1978, but it changed the game with the Air Max in 1987, which was one of the biggest product releases in sneaker history. These days, Air Max sneakers are beloved by collectors, and every die-hard fan should know how to clean Nike Air Max shoes. Sneakerheads covet Nike Air sneakers because of the exacting detail and science with which they're built. After all, it was a former NASA engineer who devised the brilliant idea of using air as a natural shock absorber in the shoe's sole.
Nike Tailwind was devised by NASA engineer Frank Rudy, who thought to use a rubber air-filled capsule inside the heel to reduce shock on an athlete's body. It was a game changer for the sneaker industry, pushing all shoe design one giant leap forward. Nike's sport-forward passion for cushioning joints was largely thanks to co-founder Bill Bowerman's experience as an Olympic track coach.
Bowerman's first-hand knowledge of the toll sports takes on the body coupled with space-age design from Frank Rudy launched Nike to the pinnacle of the sneaker industry. The Air Max and the Air Jordans are the most successful products for Nike. The Air Max's features, like mesh and the air cushion, have always made them comfortable to wear for long periods, making it a popular lifestyle shoe and not just for sports.
The Air Max advances its design every year, like Air Max 93 did in 1993 with its heel-wrap, 270-degree air cushion and the addition of the front sole cushion in Air Max 95, but '95 saw another addition — a return to athleticism aimed at competitive runners — the Air Racer Max, with more mesh and a flatter sole for competitive racers. Today, the Air Max line is enormously popular as a lifestyle shoe, and the air technology is a huge part of why collectors love to live in these shoes.
How to Clean Your Nike Air Max Sneakers
Cleaning Nike Air Max shoes isn't as simple as getting clean white leather tennis shoes because there are always multiple materials that should be cleaned separately. (That's why toothbrushes can be really handy.)
Step 1: Use a Dry Brush
Use a dry soft-bristle brush to remove any dirt from the uppers, including the outsole and midsole. Only use firm-bristle brushes to remove debris from the treads on the bottom of the shoes but be careful of the sides. A toothbrush can do a great job on the uppers if you don't have a proper shoe brush; it will just take longer. When brushed, remove the shoelaces.
Step 2: Mix a Cleaning Solution
Use warm water (never hot) with just enough mild laundry detergent or dish soap to get things soapy.
Step 3: Clean the Laces
Massage the laces with the soapy water and rinse. If they're clean, dry them, and if not, repeat this step. Do not soak or submerge the lace ends. Once they're clean, dry them with a cloth and set them aside until they're 100 percent dry.
Step 4: Wash the Soles
Use the cleaning solution and a clean soft-bristle brush. Brush the outsole and then the midsole. Repeat as needed and then dry with a soft cloth.
Step 5: Wash the Uppers
Be mindful of different materials and clean each material independently. Use a clean soft-bristle brush or dry cloth with some cleaning solution. Gently scrub an area to loosen the dirt. Use a clean, dry microfiber cloth to blot it dry immediately after scrubbing each area; press down and lift up to lift the dirt directly off. Never scrub to dry these damp areas or you may drive the dirt deeper into the shoe rather than remove it. Repeat as needed over the entire uppers. This is the painstaking and slow part of the job, but the more you clean and blot, the better your efforts.
Step 6: Air Dry Your Air Max Sneakers
Air dry for best results and keep the shoes at room temperature away from sunlight. Do you have a hot date and want them to dry quicker? Crumple real newspaper — not magazines or loose-leaf paper but actual newsprint — and stuff your shoes. Repeat with fresh newsprint each hour until dry if necessary. Be careful, though, as the ink can transfer and mar your sneakers. That's why Nike recommends air drying only.
If you have grime on your shoes, don't brush them until you've removed the grime with a dry cloth. On vinyl or leather, you can use a shoe wipe, which you can find at Amazon and other retailers.
Do you have gross insoles? Use the same cleaning process as cleaning the uppers. Just clean with some solution, blot dry and then air dry. Make sure they are 100 percent dry before you put them back on your feet. If they're even a bit damp and you wear them, you're dooming yourself to a stinky, mildewy insole. If the stink fails to relent after cleaning, see your sneaker hub for a new pair of insoles.
Some scuffs can be removed with a pencil eraser, but it's better to work lightly with repeated efforts than attempting to get it all off quickly. The friction can damage your shoes. Sneaker erasers are popular, though, and some are designed especially for suede and nubuck. Some cleaners can be safe for nubuck shoes but use a soft- or medium-bristle brush.
What Cleaner Should I Use?
There are many sneaker-cleaning kits, but user experience varies on nearly all of them since sneakers, especially the Air Max, often have multiple materials in each pair. Nike does not recommend a specific cleaner nor does it even sell a Nike-branded cleaning solution, which says a lot. Nike suggests a mild dish soap or mild laundry detergent, and given how much can go wrong with a more powerful product, playing it safe can be wise with your beloved kicks.
Instead, get great shoe brushes, a good microfiber cloth for cleaning and flannel for polishing and keep scuff prevention in mind from the start with a good protective spray. Beloved sneakers should be protected when fresh from the store (and at least monthly thereafter) with a spray since it makes cleaning easier too.
The only thing worse than dirty kicks are damaged kicks. Be careful not to harm your sneakers by treading with caution.
Never use hot water or hot air on your shoes, as the glue is vulnerable to heat, and you may damage the shoe irreparably.


Never put sneakers in the washing machine or dryer, as it can warp your shoes.


Never dry your sneakers, especially white ones, in direct sunlight since this will discolor them. It can turn white shoes yellow.


Never use bleach or other harsh cleaners. Always test an inconspicuous area if you're unsure about a product.
Keep Sneakers Snazzy: Prevention Tips
It's inevitable that shoes get dirty. Nice sneakers will require some effort. Keep them at their best before dirt takes a toll.
Stay vigilant and clean your shoes as soon as scuffs happen since fresh scuffs should be easily removed.


In the absence of a proper soft brush, a toothbrush can work wonders, but make one part of your shoe-saving toolkit anyhow, as they're great for detail work.


To keep your kicks looking fresh, make cleaning a twice-monthly ritual.


Always follow up with stain repellent after each cleaning.