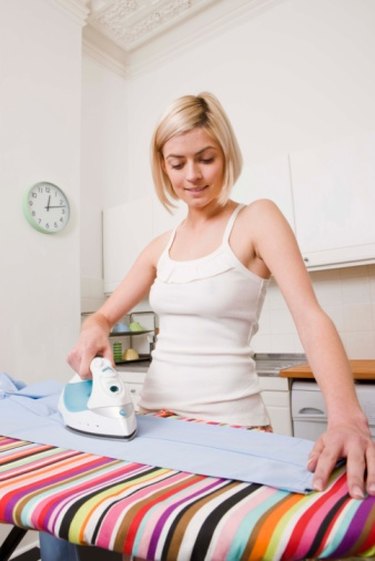 Starch stiffens fabrics and produces crisp pleats, tucks and lines. Starching and then ironing fabric helps collars and ruffles stand out and produces a smooth finish on the fabric. Most homemade laundry starch is made from cornstarch, but you can also make starch from other ingredients. Making starch at home saves you money and allows you to create a recipe that meets your needs for stiffness in your fabric. Homemade laundry starch lasts up to a week in the refrigerator, so it's best to make small batches of starch as you need them.
Potato Starch
Step 1
Wash a potato, and then peel it with a sharp knife. Cut out any eyes and remove any discolored sections. For the whitest starch, use only the white part of the potato.
Step 2
Grate the potato into a bowl. Pour 1 quart of water over the grated potato. Stir to remove the starch from the potato. The liquid will become cloudy. Pour the liquid through a strainer into a clean bowl. Repeat the process if you feel you can get more starch out of the potato.
Step 3
Let the water rest in the first bowl for about 45 minutes. The white starch will have settled in the bottom of the bowl. Carefully pour off the clear water at the top, leaving the starch at the bottom.
Step 4
Place the starch in a small saucepan and mix with 1/4 cup of cold water to form a smooth paste. Pour in 2 cups boiling water, stirring constantly to keep the mixture smooth. Cook over medium heat, stirring constantly, for two to three minutes.
Step 5
Pour the prepared starch in a spray bottle and add 1 cup cold water. This makes a medium-weight starch. Add more water for a lighter starch, and less for a heavier starch.
Rice Starch
Step 2
Continue boiling the rice until it is tender. This will take about 15 minutes. When the rice is done, strain it and save the cooking water.
Step 3
Cool the rice water. Strain it through a piece of flannel into a spray bottle and use it as ironing starch.
Glue Starch
Step 2
Screw the cap onto your spray bottle and use your starch.
Flour Starch
Step 2
Bring 1/2 cup of water to a boil in a small pot. Add the flour and water mixture to the boiling water, stirring constantly as you do so.
Step 3
Continue boiling and stirring the mixture until it thickens slightly. When it has, remove the pan from heat and allow it to cool.
Step 4
Strain the cooled flour water into a spray bottle and use it as laundry starch.