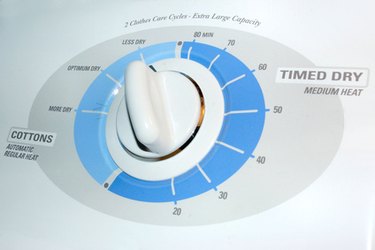 The expense of dry cleaning is enough to deter some people from purchasing fabrics that must be dry cleaned. In addition to the expense, most dry cleaners use a chemical called perchloroethylene, which is identified as a possible carcinogen. Health conscious individuals often try to avoid taking their clothes to the dry cleaner to prevent breathing this chemical. Consider some alternatives to dry cleaning, most of which work on nearly all fabrics.
Dryer Bags
Home dry cleaning kits are the number one dry cleaning alternative. These dryer bags contain a small amount of cleaning solution and usually come with a stain treatment. Place the clothes in the bag, and the sheet included with the bag draws out the dirt from the clothes without damaging the items. This method works for light cleaning, but use an alternative method for heavy cleaning.
Hand Washing
Dry-clean only clothes that are not made from wool, silk or rayon usually are laundered in water in a sink. The reason these fabrics are labeled dry-clean only is usually to protect the shape of the fabric or the embellishments on the items. Hand wash the items in cool water with a mild detergent. Rinse thoroughly, but do not wring the clothes out. Gently squeeze the fabric to remove the excess water. Hang to dry.
Delicate Cycle
Place dry-clean only items in the delicate cycle of a front-loading washing machine. Always use a mild detergent, and use a gentle or delicate cycle. Do not dry the items in the dryer, but rather hang them to dry. Place heavy fabrics flat to dry.
Delicate Fabrics
Wool, silk and rayon require special home cleaning care. Wash wool and silk in cool water with a mild detergent. Do not twist or wring out the fabric. Remove the fabric from the water, and place on a towel. Shape the fabric back to the original shape, and press the item dry between two towels. Do not use acidic cleaners on rayon because this will break apart the fabrics. Use a detergent with a pH above 7. Do not agitate rayon at all if possible. Allow the rayon to soak in the water, and rinse it with cool water. Press between two towels to dry, and lay flat to complete the drying process.
Preventive Care
One way to delay the need for cleaning is to always wear an additional item of clothing under the fabrics that normally require dry cleaning. Wearing another shirt protects the other item from sweat stains and body odor. However, it does not protect against exterior stains. This technique works particularly well with sweaters.
Steam Cleaning
Place any non-wool, silk or rayon item in the dryer along with a damp towel. Run the dryer for 20 to 30 minutes until the towel is dry to steam out many of the contaminants from the fabric.