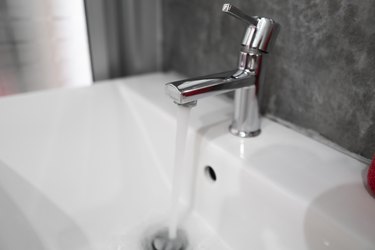 The simple fixture that hangs over the kitchen sink often gets overlooked. It can get whipped around to clean heavy pots and pans that crash against its polished surface. But a chrome faucet that has been scratched and dinged up can be returned to a relatively pristine condition.
There are a few ways to safely remove scratches from chrome taps using commercial or homemade cleaning products.
Tip
A gentle hand will carefully remove scratches without further damaging the chrome tap.
Natural Remedies to Clean Chrome
Removing the gunk from chrome can help shine up the chrome successfully. Once the grime and bits of dried food, hard water deposits and other debris have been removed from the sink fixture, the scratches can be removed or repaired more easily.
Lemons cut in half can be used to quickly take down layers of hardened grease and soap scum buildup. Merry Maids recommends using the pith of the lemon to wick away dirt and grime, and leave lemon juice on hard water deposits for an hour or overnight to loosen the scaly spots. Wipe the chrome fixture down with a microfiber cloth to remove the residue from the lemon.
Make a paste with baking soda and water and spread it over the chrome, leaving the paste on for at least 20 minutes, and up to an hour, to clean and shine the chrome. Wipe away with a clean microfiber cloth and buff dry.
Commercial Cleaners for Chrome
Chrome is a soft metal, and abrasive cleaners should be avoided, according to The Family Handyman. Microfiber cloths and gentle cleaners, such as Brasso, can quickly shine up a chrome faucet while taking down minor scratches on the fixture's surface.
When using Brasso, chrome scratches don't stand a chance. It will clean the fixture while working to erase superficial marks in the finish. The commercial chrome polish is gentle on the soft metal of the chrome tap, but effective enough to pull up stuck-on hard water deposits without causing more damage.
Repair Chrome Finish on Faucet
To remove scratches from chrome taps, you may need to refinish the fixtures completely.
Sand the scratched area or entire fixture with a rough-grit sandpaper until the finish is dull. Wipe the fixture down before going over it again with a #000 steel wool sponge to further prepare the surface for a primer.
Tape off any areas of the sink that you don't want to get damaged by the primer and apply a self-etching primer spray. Allow the spray to dry according to the manufacturer's directions before applying a coat of chrome paint to the repair area. Once the chrome paint has dried, apply a clear coat to seal the chrome paint.
Keeping Chrome Free From Scratches
After cleaning and repairing the chrome faucet, take time every day to keep the fixture in its gleaming good shape. Wipe the fixture down daily with a microfiber cloth to prevent film and hard water deposits from building up.
Once a week, wash the entire fixture from spout to stem with a mix of a few drops of a mild dish washing liquid and distilled water in a bowl. Distilled water works best so that more hard water deposits aren't left behind after cleaning with water from the tap. Buff dry with a microfiber cloth to remove streaks and moisture.
---
Kimberley McGee is an award-winning journalist with 20+ years of experience writing for a variety of clients, including The New York Times, Las Vegas Review-Journal Home section and other national publications. As a professional writer she has researched, interviewed sources and written about home improvement, interior design and related business trends. She earned a B.A. in Journalism from the University of Nevada, Las Vegas. Her full bio and clips can be viewed at www.vegaswriter.com.