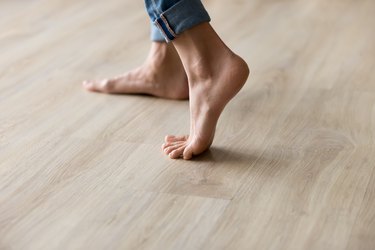 While most people can agree that hardwood floors add considerable value and visual appeal to just about any room, there is far less consensus when it comes to cleaning and disinfecting wood flooring. Since hardwood flooring products and harsh cleaners don't usually mix, choosing the best hardwood floor cleaner and disinfectant can sometimes be a challenge. Whether you purchase a bottled anti-bacterial floor wash designed for wood or opt to dilute your own cleaning solution at home, safely washing your hardwood floors does not have to feel like rocket science.
Best Hardwood Floor Cleaner and Disinfectant
The best hardwood floor cleaner and disinfectant is found in products that can remove dirt and grime from wood floors and dry quickly without leaving residue, dulling the shine or damaging the surface. Many anti-bacterial wood floor cleaners are specially formulated to do just that. Keep in mind, however, that many hardwood floor cleaners and disinfectant products are not suitable for wax-treated floors or floors treated with other penetrating finishes. No matter which cleaner you choose, it's always a good idea to test it out in an inconspicuous area before cleaning your whole floor with it.
According to Good Housekeeping, some of the best commercial hardwood floor cleaners include:
Bona Hardwood Floor Cleaner Spray is a popular anti-bacterial floor wash designed for use with hardwood. Bona is a premixed, water-based cleaner that comes in a spray bottle, does not require rinsing and is safe to use around kids and pets.
Pledge Gentle Wood Floor Cleaner is another anti-bacterial floor wash that comes ready to use and is specially formulated to clean your wood floors without leaving streaks or residue. Since it comes in a squeeze bottle, it's easier to use in larger open areas of wood than spray cleaners.
Black Diamond Stoneworks Wood & Laminate Floor Cleaner is an eco-friendly and biodegradable anti-bacterial wood floor cleaner. This cleaner comes in a spray bottle and is formulated for use on both hardwood and laminate or engineered flooring.
Researching the Right Floor Cleaner
While some experts argue that bottled anti-bacterial wood floor cleaners are the best option because they are specially formulated for the job at hand and generally come ready to use with no mixing required, certain products have garnered a questionable reputation. Murphy Oil Soap, for example, is an oil-based cleaner that is marketed as a biodegradable wood floor cleaner, but many manufacturers caution wood floor owners against using it or similar products because it can leave a residue on polyurethane, which can lead to streaks and dull the floor's shine. To be on the safe side, always check your manufacturer's recommendations for floor cleaning products before choosing one.
DIY Wood Floor Cleaning Solutions
If you would prefer to make your own anti-bacterial wood floor cleaner at home, you can do so by using some simple household items and taking care to dilute the solution properly. As with the commercially bottled products, always test out your cleaning solution in a hard to see area before cleaning your entire floor with it. Remember to never use an overly wet mop on your hardwood floors since doing so can lead to swelling or warping.
Hydrogen peroxide, when diluted properly and used correctly, is an efficient and effective anti-bacterial wood floor cleaner. The anti-fungal, anti-viral and anti-bacterial properties of hydrogen peroxide work to thoroughly disinfect hardwood floors as a bleaching and cleaning agent that is safe for pets and their humans. To create a DIY hydrogen peroxide wood floor cleaner, mix 1 cup of 35 percent peroxide solution, which is the cleaning grade, with 1 gallon of water. Fill a spray bottle with your mixture and you are ready to clean. Use a microfiber cleaning cloth to wipe off any excess liquid after cleaning.
White vinegar is another simple way to create a DIY wood floor cleaning solution. Mix 1 cup of white vinegar (never use red or balsamic vinegar) with a bucket of water. After thoroughly mixing, fill a spray bottle with your cleaning solution and you are ready to go.