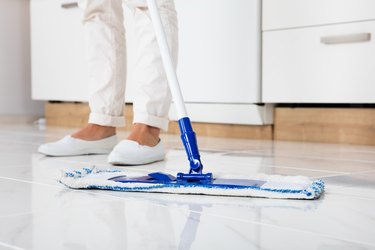 Laminate flooring is popular for home across the United States because it is durable, easy to clean, cheap to buy and offered in a variety of colors and styles. But like all flooring, laminate is still susceptible to dirt and grime buildup. Cleaning laminate floors with Windex can help to lift stubborn stains without damaging the integrity of the floor.
Cleaning Laminate Floors
Laminate flooring is a popular choice for rooms that see a lot of heavy foot traffic, like kitchens, bathrooms, laundry rooms, entryways and basements. Laminate floors provide a pleasant aesthetic look for your home without the cost and hassle of installing natural stone, tile or hardwood. They are also common because laminate is easier to clean than tile and doesn't have the porousness of pumice or hardwood.
Typically, a laminate floor is cleaned with water and dishwashing liquid. Regularly going over a laminate floor with a mop dipped in soap and water will be enough to remove most stains, grime and buildup that collects on the floor's surface.
Because of laminate's nature, the flooring can collect dirt that sticks to the surface. This can lead to laminate floors turning feet black. This is particularly true in rooms where there are lots of outdoor shoes moving in and out and over the floors, leaving behind debris. Vinegar can help to cut the grease and dirt, and return the floors to a clean state.
Cleaning Laminate Floors with Vinegar
Beyond using simple water and soap to clean your floors, vinegar offers some added cleansing power and degreasing ability that can cut into dirt and reveal the cleaner surface underneath.
Make a cleaning solution out of 2 parts warm water and 1 part vinegar, then dip your mop into the solution. Wring the mop out before applying it to the floor, as excess water can damage the floor. Although laminate flooring is durable, water can seep in between the flooring and the subfloor, causing the laminate to separate and lift off of the ground.
A damp mop with vinegar and hot water can be applied to the laminate floor and moved back and forth quickly. It will easily cut through dirt and grime, and clear the surface of the floor without leaving any streaking behind.
Cleaning Laminate Floors with Windex
Cleaning laminate floors with vinegar can be highly effective. However, if you feel like you need to up the power of your cleaning solution, you might want to trying cleaning laminate floors with Windex.
Before beginning the cleaning process, sweep the laminate floor and get any bits of debris, grit and dust off of the surface of the floor. This will help ensure that you're staring with a smooth surface, and that you won't be dragging bits of hair or debris around with your mop. Once the floor is clear, you can grab your bottle of Windex.
Spray the Windex on the surface of the floor or on a microfiber pad that you're using to clean the floor. Rub the mop back and forth vigorously over the flooring. Get into every corner and crevice, and go back and forth over particularly stubborn stains or marks. If necessary, getting on your hands and knees with a scrub pad or brush can help to live stubborn stains.
Other Cleaning Solutions
If Windex hasn't been a perfectly useful cleaning agent while you're working on the floors, consider adding rubbing alcohol and water to your arsenal. Be careful to never mix ammonia and alcohol because the fumes can be toxic. However, applying alcohol to the laminate floor to help remove stains may be very helpful.