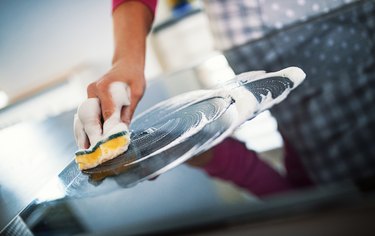 There is nothing worse than watching something overflow onto your ceramic or glass stove top. Flat stove tops are a great way to cook your food, but many people consider them a very high maintenance appliance when it comes to cleaning. If not cleaned after every use, you will begin to notice little specks of food that have become baked onto the surface.
These baked-on areas of mystery food can be a headache to get rid of if you don't know how to properly clean your flat stove top. Before grabbing the first cleaning product you find under your kitchen sink, it is best to look into your stove top a bit more and see which products work for the type of surface.
DIY Glass Top Stove Cleaner
Before using chemically-filled store-bought products, try using an easy household remedy to remove the stains. The most important step, which must be done before any type of product is used, is to scrape down your flat stove top with a Cerama Bryte scraper or any other ceramic stove top scraper. Cerama Bryte has a line of products that are specifically designed for flat stove tops.
Keep the scraper at an angle and begin to work away at the baked-on food to remove the patch. Once all the residue has been successfully removed, you can then create your homemade paste using baking soda and water. Apply it to the affected area and let it rest there while covered with a damp rag. Wipe the area clean, and the stain should no longer be visible.
Cerama Bryte Cook Top Care
Cerama Bryte is a company that has developed a line of products for the cleaning and care of flat stove tops. How to use these products may vary, depending on the stain or origin of the baked-on item. If debris is on the surface and could be removed with a fingernail, then you must use the ceramic stove top scraper first before applying any of the product.
Cerama Bryte cleaner should mainly be used on a cooled cook top, then rubbed in with a dry paper towel. If there is any product residue left, continue rubbing with a paper towel until the product cannot be seen anymore. The only time the cook top should be cleaned when still warm is when the stain or debris comes from melted plastic or a food with high sugar content. The burnt chip or patch in question should be scraped while warm, and the spot cleaned with the cleaner once the cook top has completely cooled.
Regular Flat Stove Top Maintenance
These situations of mysterious burnt-on patches can be avoided if you do daily maintenance on your flat stove top. Wiping down the surface with a damp cloth is a great way to clean off any spills to avoid them from getting baked on. Make sure to avoid water at all costs on the surface, and do not use a sponge or dishcloth unless its sole use to wipe down your stove top. Washing dishes with the sponge, then running it over the surface of your ceramic cooker, could result in scratches on the surface due to hidden debris located within the sponge.
Another great way to do daily upkeep on your flat cook top is to put a nickel-sized portion of Cerama Bryte cleaner on each burner and wipe it away with a dry paper towel. Of course, this needs to be done when the burners are cool, but it is a great way to avoid any burnt-on buildup.