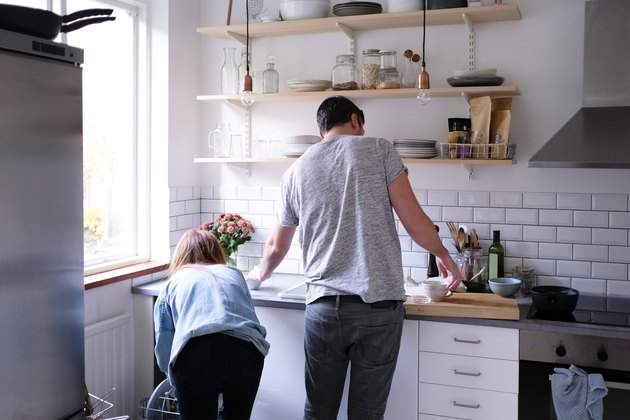 Cabinets do more than they were originally intended for. They hold photos of loved ones, inspirational quotes, favorite recipes, diet restrictions and much more. Over time, all the reminders, recipes and other bits of paper that get stuck to the surface of the cabinet can leave behind a sticky residue.
Getting rid of that residue is simple, as long as you know the type of material the cabinet is made from and a few other important factors so that you don't cause more damage to the exterior or interior of the cabinet.
Why Sticky Residue Is Harmful
It may seem like a simple layer of yuck that is harmless enough, but sticky residue left to linger on a kitchen or bathroom cabinet can attract dust, grime and bacteria. Eventually, this will create a gunky layer that is much more difficult to remove from the surface of the cabinet. Grease, dirt and all of the detritus that come with a busy daily life will find their way to the surface of the adhesive that is left behind.
Homemade or commercial adhesive remover can make quick work of a gummy layer left behind from contact paper or pieces of tape and stickers. It can eventually eat into the wood or laminate of the cabinet surface, depending on the type of material.
Prepping the Cabinet for Cleaning
Before it becomes a problem, remove all tape and adhesive from the cabinet. Make the surface as clean as possible before really getting into the thick of it and scouring the cabinet clean of any sticky surfaces with a serious adhesive remover.
A swipe of rubbing alcohol can remove most tape and contact paper adhesive that is fresh and tacky. Wet a clean sponge thoroughly with rubbing alcohol. It should be rather damp but not wringing wet. Push the sponge onto the sticky areas and apply pressure for a few minutes before removing.
The alcohol will evaporate quickly, but the sponge will keep the moist astringent on the sticky areas long enough to make it easier to pull the gunk away from the surface of the cabinet.
Remove Sticky Residue from Wood Cabinets
When that once-prized shelf paper has left behind a sticky residue after being pulled off for a more modern replacement, it can make updating the inside of the cabinets a difficult chore. Wood cabinets need care when removing old adhesive from its insides or exterior facings.
If the sticky substance simply won't budge, there are a few things to try. Take a hair dryer and apply heat at the lowest setting to the edge of the tacky area. Hold it a good 12 inches away so that you don't damage the surface of the cabinet. Give it a minute before attempting to lift the edge of the adhesive patch.
To remove sticky residue from wood cabinets, use a simple solution of a few drops of liquid dish soap, 1 tablespoon of vinegar and 1/4 cup of water. Use a soft nylon scrub brush dipped in the soapy solution to scour the area where the adhesive hasn't lifted from the surface.
---
Kimberley McGee is an award-winning journalist with 20+ years of experience writing for a variety of clients, including The New York Times, Las Vegas Review-Journal Home section and other national publications. As a professional writer she has researched, interviewed sources and written about home improvement, interior design and related business trends. She earned a B.A. in Journalism from the University of Nevada, Las Vegas. Her full bio and clips can be viewed at www.vegaswriter.com.
View Work