Many home owners love the beauty and durability of their granite countertops. The natural beauty of the polished stone can last for many years, but at some point it can become marred by corrosive products or deposits. One type of cleaner you can use to help keep your granite countertops sparkling is Jelmar's CLR because it is said to remove Calcium, Lime and Rust.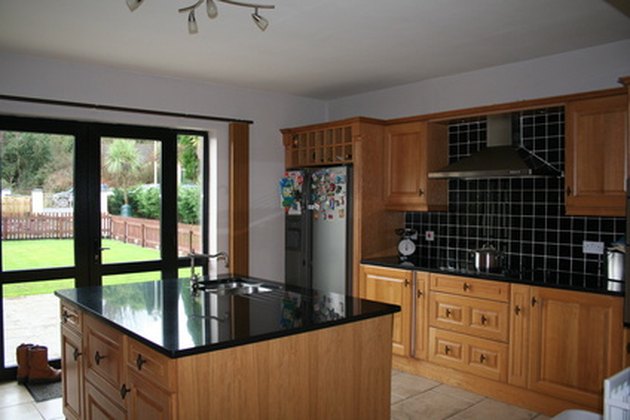 Step 1
Make sure you purchase the CLR Bathroom and Kitchen Cleaner because that is the one specially formulated for bathrooms and kitchens. The other CLR products may be too harsh or unsafe to use in bathroom or kitchen areas.
Step 2
Ensure that your granite countertop is not coated with a synthetic coating or sealed with a sealer. Talk to your installer or granite countertop manufacturer to see what type of sealer has been used. If the granite has a synthetic coating, then you cannot use CLR on the counter because the cleaner will destroy the synthetic coating.
Step 3
Spray a small amount of CLR cleaner on a small area of your granite countertop while wearing a pair of gloves. It is best to test a small area that is in an unseen corner of the countertop in case the CLR does stain the granite.
Step 4
Leave the CLR cleaner on the test area for five minutes, then wash it off. This will be enough time to see if the cleaner will stain the granite. If there is no stain on your granite countertops, then you are ready to use it on the entire area.
Step 5
Turn the nozzle on the CLR cleaner to the ON position. Spray the cleaner approximately 6 inches from the surface of the granite countertop.
Step 6
Spray a twelve inch by twelve inch area of your countertop at a time. Apply the cleaner on the granite countertop with a damp sponge or rag using a circular motion to spread the cleaner around. Leave on for 2 to 3 minutes. CLR is corrosive if left on for too long.
Step 7
Rinse off the cleaner from the countertop area with cold clear water. Wipe down the granite countertop with a clean dry rag or paper towels.