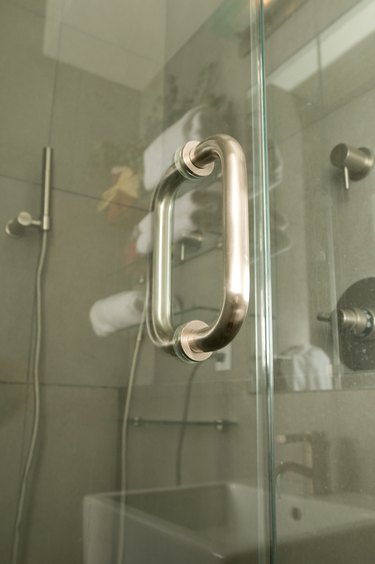 The Mr. Clean Magic Eraser is a multipurpose cleaning tool that helps homeowners solve difficult cleaning situations. It's safe on a range of surfaces such as walls, kitchen counters and glass showers. When unsightly soap scum begins to build up, reach for an eraser to remove the stain. If you've rubbed your Magic Eraser away, there are few other convenient and safe options for cleaning glass showers, too.
Magic Eraser
To use a Magic Eraser on a glass shower door, moisten the eraser with water and squeeze to activate it. Rub it on the door from top to bottom until the surface is clean. There is no need to rinse.
Fabric Softener Sheet
In the same manner that you wet a Magic Eraser and wipe down a glass door, the same principle and steps apply to a fabric softener sheet. Wipe from top to bottom with the damp fabric softener sheet, and watch the grime disappear. Finish by wiping the entire surface with a damp paper towel. If your fabric softener sheet is scented, it will leave the bathroom with a pleasant, fresh smell.
White Vinegar
To get a clean and disinfected glass door, combine equal parts of vinegar and water into a spray bottle. Lightly shake, and then spray onto the door. Wipe the surface with a cloth.
Rubbing Alcohol
Combine 1 cup of alcohol and 1 cup of water in a spray bottle. Mix to combine and spray the door with the mixture. Use newspaper to wipe the area and to prevent streaks. If your bathroom has chrome fixtures, this is a good mixture to clean this surface as well.
Baking Soda
Although this method requires more effort, it works. Fill a bowl with hot water, and dip a clean sponge in the bowl. Sprinkle the sponge with baking soda, and scrub the glass door. Dip the sponge in the water, and add more baking soda, as needed. Wear gloves to protect your hands from the warm water.
---
Stephanie Green is a writer with more than 10 years of experience. Her work has been published in various lifestyle and trade publications, covering parenting, gardening and human-interest stories. Green holds a Bachelor of Arts in English.