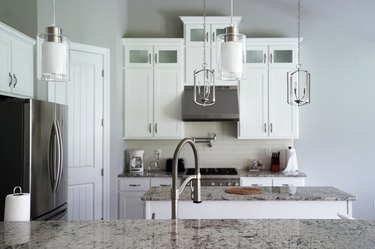 Cabinets, furniture and fixtures that have been exposed to cigarette smoke can soak up the odor and contaminate the air long after the last butt has been extinguished. Whether they are wood, particleboard or Formica, kitchen cabinets, dressers and other household items can become saturated with the sour scent that former smokers have left behind.
Replacing cabinets and drawers that have been infused with the acrid odor of cigarette smoke can be costly. Cleaning nicotine off of kitchen cabinets can seem like an overwhelming endeavor. However, it can be done quickly and effectively with the right techniques and odor removers.
Tips and Tricks to Clean
Before you begin to clean cigarette smoke from the surface of cabinets, there are a few things that will ensure the job is done well and safely.
Ventilate the area as much as possible before you begin to work. The scent from solvents, bleach and even vinegar can become overwhelming and unsafe in small, closed areas.

Use gloves and safety goggles when working with detergents and abrasive cleaners.

Use soft cloths and brushes rather than reaching for abrasive tools, such as steel wool, that can scratch the material of the furniture and kitchen cabinets.

Remove cabinet doors and hardware that need to be cleaned and label them so that they can easily be returned to the proper place once the job is complete.
Cleaning Nicotine Off Kitchen Cabinets
Begin by scrubbing the area with warm water mixed with ammonia. Mix 1 tablespoon of ammonia to 1 cup of water for small jobs and 1/2 cup ammonia to 1 gallon water for larger projects.
Another homemade cleaner that works well to remove the discoloration caused by nicotine as well as the odor is plain vinegar and water, according to HGTV. A mix of one-part vinegar to one-part water and a few drops of liquid soap can also be effective in removing the odor as well as the staining that is left behind by nicotine.
If the kitchen cabinets continue to have an odor, bleach works well to take down the acrid smell. Test a small area of the cabinet before applying to make sure that the bleach doesn't damage the material. Mix one part of bleach to four parts of warm water. Once finished with this first attempt, wipe the surface down with a soft, dry towel so that the kitchen cabinet is free from moisture.
Remove Smoke Smell From Furniture
The drawers and hardware should be removed from the furniture piece before cleaning to get the smoke smell out of a wood dresser. This will allow you to thoroughly clean out the interior and exterior areas where the smoke has wound its way into the nooks and crannies of the dresser.
Rainbow International Restoration recommends a mix of ½ cup of ammonia, ¼ cup of vinegar and ½ cup of baking soda in 1 gallon of hot water. Spray or rub this down over all of the hard surfaces affected by the smoke smell. Allow air to circulate through the furniture after it has been cleaned and dried to further remove the smell.