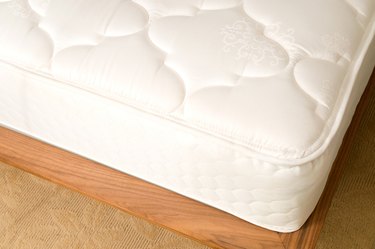 Commercial carpet shampooers, available for rental at some grocery and hardware stores, usually come with an upholstery tool kit that allows you to clean mattresses, sofas and rugs. Use this attachment to clean mattresses, but don't overwet the mattress and dry it quickly to prevent mildew growth. Cleaning your mattress with a carpet shampooer once a year is usually adequate. Spot clean and vacuum your mattress more frequently.
Materials
Carpet shampooers are safe to use on traditional inner spring mattresses, but do not use a carpet shampooer to clean mattresses made with foam, memory foam or goose down. Use dry methods to clean these mattresses or consult a professional.
Cleaning Products
If you opt to use a carpet shampooer to clean your mattress, use only the upholstery cleaning products recommended by the manufacturer. Laundry soaps or dish soaps may produce too much foam and leave a filmy residue on the mattress cover that will encourage re-soiling.
Method
To clean your mattress safely with a carpet shampooer, the Rug Doctor website recommends setting the mattress on its side. Clean one side of the mattress thoroughly before going to the other side. Run the upholstery tool over the mattress once, depressing the handle to release the cleaning solution and water. Go over it several more times without depressing the handle to remove as much water as possible without adding more soap and water. Water left in the mattress can cause mildew growth or rust the coils. Open windows near the mattress and run a fan to accelerate drying or move the mattress outside on a sunny day to air it out.
General Recommendations
Protect your mattress from stains and spills with a high-quality mattress pad. Wash the pad at least twice a year, using hot water and chlorine bleach to kill bacteria and dust mites. Rotate and turn the mattress at least twice a year, as well. Vacuum the mattress before you rotate it with the upholstery attachment of your vacuum. Blot up any spills promptly and treat urine and vomit stains with an enzymatic pet-cleaner to remove odors, as well as the stain.