Hair dye has been a part of beauty regimes since people living in ancient Egypt and China reached for herbs and oils to pump up their mane look. And since those ancient times, someone has been looking for a way to clean up the stains hair dye typically leaves behind. Getting dark hues of hair dye off of your laminate, ceramic, glass or wood surfaces can be done without harm if you follow a few chemical rules of thumb and act with some haste.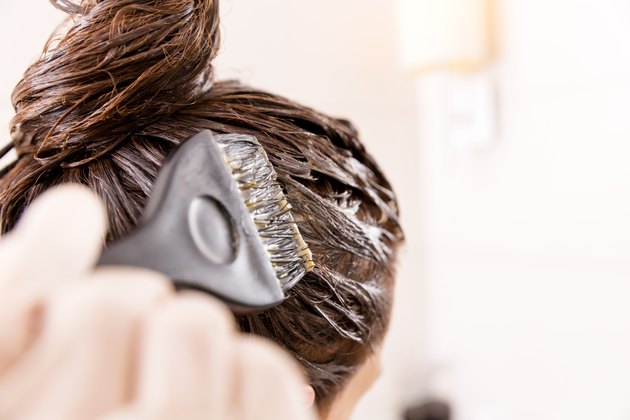 credit:
artursfoto/iStock/GettyImages
The range of colors and conditioning formulas are a fairly recent invention, although hair dyeing has been around for thousands of years. Hair dyes started out with a mixture of plants or metallic compounds, such as the readily available wood ash, rock alum and quicklime. Herbal preparations involved a laundry list of plant parts, including the bright orange stain of turmeric, saffron, birch bark, myrrh and mullein for less drastic dyed 'dos. The natural henna is long known to brighten reds and add a bit of beauty to graying roots. Indigo was combined with henna for deep, dark tresses and red locks were contrived of black sulfur, rock alum and honey in Italian women during the Renaissance.
Today, most hair dyes are made up of a mix of hydrogen peroxide, ammonia, various types of alcohols and synthetic-organic hues or coal-tar colors.
Old towels are a good idea to have on hand when you start your home dye job. Lay them on the floor when you are applying the color to your hair. If you are overzealous in your application, then the extra color that falls to the floor will be caught by the towel. They are also handy to clean up any spots that land on sink surfaces as you push and pull the liquid into the roots of your hair for overall coverage. Use them to rub a mix of cleaning powder, such as Ajax and vinegar, to rub out stubborn dye stains on quartz and laminate sinks.
If you are planning on dousing your hair under a faucet, cover the surface with a thin layer of petroleum jelly to cut down on dye-job gaffes. If your hair full of chemical goo nudges the side of the sink, it won't leave a mark and the jelly is simple to swipe up.
When a bit of your hair product gets splashed on a home surface, it can be alarming. If color does end up on your surface and it is glass or an unvarnished surface, you can try a bit of nail polish remover. Be sure to test acetone in a hidden area first. Rubbing alcohol is a safe astringent that cuts through color without harming most varnished, wood or stone surfaces. Magic erasers are great at getting into the crevices of porous materials that suck up hair dye. But don't use them on painted surfaces as they may pull up the paint or varnish.
WD-40 or hairspray can freeze the stain and pull it up. Diluted bleach is also safe but usually saved as a last alternative.