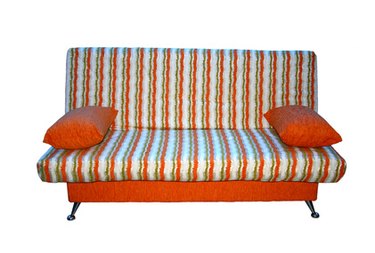 No matter how hard you try to stop them, accidents will happen. If the accident happens on your futon couch, the urine can soak into the futon, which will make removing the urine and odor difficult. No matter who or what urinated on your futon, you must treat the stain, odor and proteins that are naturally found in urine. If all three are not dealt with, you will have an odor that can linger on your futon couch for months.
Baking Soda and Vinegar Method
Step 1
Remove any pillows, blankets or sheets that may be on the futon. Launder these items as you normally would.
Step 2
Blot up the excess urine with paper towels. Discard the paper towels in a trash can.
Step 3
Pour white vinegar into a spray bottle and spray the urine-stained areas of the futon. Vinegar is a natural deodorizer and will neutralize the urine and remove the odor.
Step 4
Blot the excess vinegar with a towel.
Step 5
Sprinkle baking soda on the area. Allow both the baking soda and vinegar to stay on the futon overnight.
Step 6
Suck up the baking soda with a vacuum and wipe the area with a damp cloth.
Step 7
Repeat the process if necessary.
Peroxide, Baking Soda and Dish-Washing Liquid Method
Step 1
Pour 1 full 16 oz. bottle of hydrogen peroxide into a plastic container.
Step 2
Add 1 tsp. of a mild dish-washing liquid and 1 tbsp. of baking soda to the hydrogen peroxide. Stir together with a wooden spoon until the baking soda dissolves.
Step 3
Pour the mixture into a clean spray bottle. Apply the mixture to the urine spot and saturate the urine and surrounding area.
Step 4
Allow the mixture to sit on the futon couch until it is completely dry.
Step 5
Vacuum the futon couch with your sweeper's attachments. Wipe the area clean with a damp cloth.