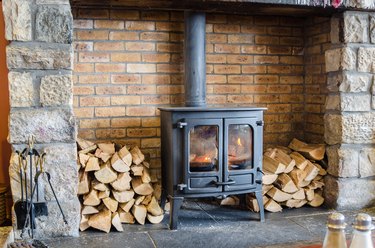 There is nothing better on a cold winter's day then cuddling up to the fire that is crackling behind your wood stove. Although they are becoming fairly rare in homes, you can still find wood stoves in certain houses, nestled sweetly in the corner, giving the room a very comforting and cozy feel.
Wood stoves are a beautiful item that can serve a great purpose for a home. The downside to a wood stove is having to clean and care for the feature itself. This does not refer to keeping the fire going, but more cleaning the stove and all of its components like, for some models, the glass door.
Cleaning Your Wood Stove Glass
The glass in the door of your wood stove allows you to watch the fire burn all night long. However, the next day, it is possible that you'll find the glass door covered in black. The black comes from all the soot and dirt buildup that happens when burning wood inside the stove. The soot can also create a hazy film, reducing the visibility greatly, which leads to the fire being less enjoyable visually.
If you make fires every day, it is possible that you don't notice the dirt and soot begin to build up. The longer you wait to clean it, the harder it will be to clean well. Try to avoid waiting long periods between cleaning for an easier time accomplishing the task.
How to Clean the Glass Door
There are a few ways you can clean your wood stove glass door. The best way to clean fireplace glass doors is to dampen some newspaper and use it to wipe the glass.
Once the newspaper is damp, dip it in a bit of ash, then rub it on the door. Cleaning wood burner glass with ash is a great cost-efficient way to get a clean the glass. But make sure the newspaper is not wet, otherwise it will not work as well.
You can also try to clean your wood stove glass with a simple damp cloth. It may work if there is just a bit of hazy buildup on the glass. If you have not made a fire in a long time and wish to clean the glass before making fires again, it actually is best to clean the glass after you have made a few very high temperature fires with dry wood. It will be easier to clean afterward.
Using the same cleaner for a ceramic or glass stove top is a good choice, as well, if you find that cleaning the glass with a cloth or newspaper does not quite get the job done.
Read more: How to Clean a Burnt-on Patch on a Flat Stove Top
What Not To Clean With
Cleaning the glass door to your wood burning stove could appear quite simple, but there are still some things to keep in mind to never do when attempting to clean the glass. One of the main reminders is to never clean the glass door when a fire is being lit or is already burning.
Another important reminder is to never throw any amount of water onto the hot glass. Doing this could lead to the glass shattering or cracking due to thermal shock. Do not use any type of cleaner that is not specified for use on glass or any type of scratching tools. These could leave scratches in the glass that would likely be irreparable.