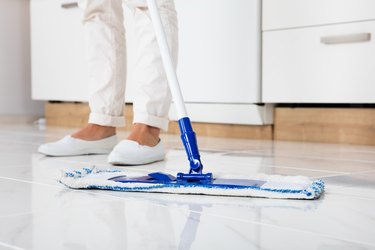 Modern rolls or planks of linoleum are stunning and stylish, and much more affordable than more expensive flooring choices. But the durable flooring can lose its original shine if it isn't properly cared for.
To keep it at its best, laminate floors require a little attention. A quick sweep with a Swiffer or other dry mop seems like a simple way to pick up the daily dust and debris that land on the floor. However, some laminate floor cleaning products can actually do more harm than good if they are used incorrectly on the slick surface.
The non-porous material requires the right laminate floor cleaner applied with the correct technique to ensure it maintains its luster.
Wet Mops and Floor Steamers
Wet mops can be used regularly to give the floor a good scouring. However, water can seep within seams and cause the laminate planks or tiles to curl. Always use caution when using wet mops, and don't let water sit in puddles on the floor as you work across the room.
The best way to clean laminate floors is with a small amount of moisture and the right detergent. A Swiffer Sweeper wet mop can provide the right amount of detergent spray without letting the water sit too long on the surface of the laminate and causing damage.
It may seem like a good idea, but a wet steam mop should not be used on laminate flooring. The hot steam can quickly lead to loosened planks or edges that will need to be repaired.
Cleaning Laminate Floors with Vinegar
It's one of the more common household cleaners and most affordable for keeping the shine on laminate flooring. Vinegar is a low residue floor cleaner and ideal for laminate.
Cleaning laminate floors with vinegar can ensure that grease and grime don't get stuck in the flooring's grooves and become a hassle to remove. Used either straight from the bottle or mixed with water, vinegar as a base will pick up grime and loosen muck that can settle into any seams or dimples in the flooring without causing damage to the sheen on the laminate. A good basic recipe is 1 part vinegar to 2 parts of warm water, which can be changed up, depending on the level of grime you have to get to.
This mix is gentle enough to be used on a daily or weekly basis. For floors that are truly dirty, increase the mix to 1 cup of each and add a 1/2 teaspoon of mild dish washing liquid. Be careful with soap because it can create a film on the floor if you use too much or find its way into seams and cracks and be difficult to remove.
Advantages and Disadvantages of Dry Mops
When cared for and cleaned on a regular basis, a well-laid laminate floor can last for decades with a pristine and polished surface. All the dirt that gets tracked into a home and across the laminate flooring on a daily basis, from kids, pets and visitors, can be removed swiftly with a dry mop.
Running a Swiffer Sweeper with a dry, untreated pad along the surface of the floor daily can pick up dust without damaging the laminate. However, dry mop pads that have been treated with detergent can leave behind a thin layer of film. This film can attract dust and be more difficult to remove the dirt over time.
---
Kimberley McGee is an award-winning journalist with 20+ years of experience writing for a variety of clients, including The New York Times, Las Vegas Review-Journal Home section and other national publications. As a professional writer she has researched, interviewed sources and written about home improvement, interior design and related business trends. She earned a B.A. in Journalism from the University of Nevada, Las Vegas. Her full bio and clips can be viewed at www.vegaswriter.com.