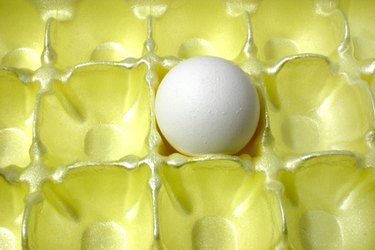 Styrofoam egg cartons are made of foamed polystyrene, also known as PS or plastic number 6, since its recycling symbol features the number six. Polystyrene can be recycled into a number of applications, including reforming into egg cartons once again, license plate frames, foam utensils or packing peanuts and thermal insulation. If you don't live near a recycling plant or can't recyle your polystyrene at curbside, your only option is to find a clever use for the egg cartons.
Step 1
Discard any soiled polystyrene containers. As with the recycling, if they're soiled with food waste they're simply unusable.
Step 2
Take the egg cartons with you if you purchase local eggs; many farmers will appreciate the chance to reuse or recycle an egg carton instead of providing a fresh one they know will just go to waste.
Step 3
Store small items--earrings, golf balls, beads, jewelry findings, wine glass markers and the like--in the egg-shaped bottom of the polystyrene container.
Step 4
Melt candle wax and mix dryer lint in with it, then pour the mixture into the bottom of the egg container. Let dry, then cut each "egg" apart and store it with your camping equipment or fireplace supplies for later use as a firestarter.
Step 5
Store the egg cartons for later use as a children's art project. Have the kids cut out the individual egg-shaped bumps and turn them upside down, then decorate them as "egg people". Likewise, the rectangular tops of the cartons can be decorated as trays.
---
Lisa Maloney
Lisa Maloney is a travel and outdoors writer based in Anchorage, Alaska. She's written four outdoors and travel guidebooks, including the award-winning "Moon Alaska," and regularly contributes to local and national publications. She also has a background in personal training, with more than 6,000 hours of hands-on experience.