You have a new queen-sized bed but lots of full-sized sheets. Will full sheets fit a queen bed? Obviously, they are made for a smaller bed. But sizes are not always standard so there is no one stock answer. Although you can often make do on a queen bed with flat full-sized sheets, you'll have to be handy with a sewing machine to use full-sized fitted sheets on a bigger mattress.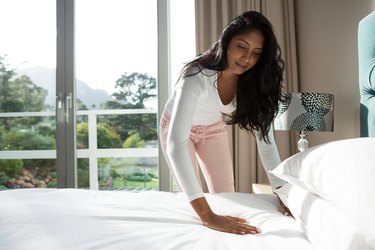 Difference Between Full and Queen
As anyone who has tried to fit a full sheet onto a queen bed knows, the mattresses are different sizes and the sheets are not interchangeable. A standard full mattress is about 55 inches wide and 76 inches long. On the other hand, a queen mattress is 60 inches wide and 80 inches long. That's a difference of 5 inches in width and 4 inches in length. Although this isn't a lot, it's enough to make close-fitting sheets difficult to squeeze onto a bigger bed.
That's because a fitted sheet for a full bed is pretty close to the actual mattress size – and the same is true of a queen fitted sheets. Fitted sheets require a snug fit rather than a loose one, while flat sheet sizes are larger. But top sheets have no standard width or length. Some flat full sheets are 81 inches wide, others 85 inches wide. Queen flat sheets can be 90 inches wide and over 100 inches wide. But they do vary. All that is essential is that the sheet is wide and long enough to tuck in both sides and the bottom.
Will Full Sheets Fit a Queen Bed?
So will full sheets fit a queen bed? Some will. The larger full flat sheets will fit a queen bed quite well, especially if you aren't a fanatic about tucking in everywhere. Full beds vs. queen beds are not so different in size that one can't work for the other. If you are going to use full flat sheets on a queen bed, you should first of all remove all mattress pads and other materials that make the mattress thicker. If the sheet doesn't stay in place, you can use sheet straps to keep a flat sheet in place on a queen size bed.
Using Full Fitted Sheets
Given the difference between full and queen size sheets, you are likely to have a difficult time wrestling a full fitted sheet onto a queen mattress. It may be possible to get an extra large full sheet that will fit, but don't expect to use most fitted sheets. But if you have to use a full fitted sheet on your queen bed, you can get out your sewing machine, take out the seems creating the fittings on the corners and alter the sheet.
---
From Alaska to California, from France's Basque Country to Mexico's Pacific Coast, Teo Spengler has dug the soil, planted seeds and helped trees, flowers and veggies thrive. A professional writer and consummate gardener, Spengler has written about home and garden for Gardening Know How, San Francisco Chronicle, Gardening Guide and Go Banking Rates. She earned a BA from U.C. Santa Cruz, a law degree from U.C. Berkeley's Boalt Hall, and an MA and MFA from San Francisco State. She currently divides her life between San Francisco and southwestern France.