Shower curtains are most often used in a tub-and-shower combination. They offer privacy while keeping your shower water from splattering out onto the floor. They're available in an almost endless array of materials, colors and designs, allowing you to personalize your bathroom in keeping with your style of decor.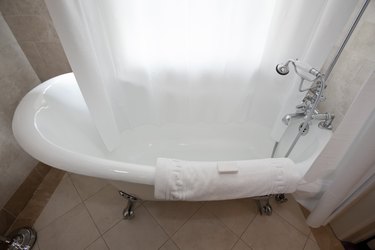 Synthetic Shower Curtains
Man-made fabrics are the easiest to care for and generally the least expensive. Vinyl curtains are durable but may not be washer and dryer safe, which means that you have to sponge them down thoroughly to clean them. They don't require a liner, which is a plus, but they can also feel unpleasant if they waft into the shower and touch your bare skin. Polyester shower curtains are a bit softer than vinyl and also don't require a liner. Many are washer and dryer safe, which makes them simple to clean. Microfiber curtains offer the durability of vinyl along with the luxury of fabric and are machine washable. Microfiber is also heavier than vinyl or polyester, making it less likely to drift into the shower at you or to let water escape.
Fabric Shower Curtains
Fabric shower curtains are a bit pricier than synthetic ones, but they have a softer feel and a more luxurious look. They come in a wide range of fabrics, such as cotton, linen, terry cloth and hemp. Each has its own advantages and disadvantages. Cotton, linen, terrycloth and hemp all tend to hold moisture, so if you live in an area prone to mold, they'll have to be washed fairly often. Cotton and linen are soft and natural looking, but they have to be hung the second the dryer shuts off or they'll wrinkle and have to be ironed. Hemp is eco-friendly and quietly rustic but not as sturdy as other fabrics and deteriorates more quickly.
Hooks vs. Hookless
Shower curtain hooks come in a huge selection of designs, from the dramatic to the whimsical, but they can be a pain to wrestle with because they don't stay still while you're trying to hang the curtain and liner. Open hooks are the easiest to install because you just slip them into the shower curtain openings designed for them and hook them over the top of the rod. Plastic hooks that snap shut can be the most difficult, especially if you're short. Hookless shower curtains come in several types. They can have split rings embedded in the fabric, which simply slip over your existing rod, or they can have buttons, snaps or ties that loop over the rod and are fastened in front or on the top. Which type you choose depends solely on your personal preference, design aesthetic and manual dexterity.
To Line or Not to Line
Shower curtain liners serve two purposes. They keep the shower curtain away from you and they're the first line of defense against water escaping your tub. The bottom edge drapes inside of the tub with you, while the shower curtain stays outside. Shower curtain liners come in many different fabrics and are available in different colors, though plain white is most often used. The most efficient liners have magnets in the hems or suction cups on the sides to help seal them to the tub. Many shower curtain liners can be used alone, though most don't offer the same level of privacy that a shower curtain or curtain-and-liner combination does.
Size Does Matter
Shower curtains come in different widths and lengths, so make sure that you measure the space where yours will hang. A too-short shower curtain can let water escape, and one that's too long will look silly outside of the tub and be a tripping hazard inside of it. Make sure that your shower curtain and liner are the same size so they'll drape properly and look and perform like a perfectly matched set.