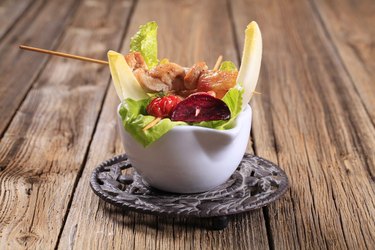 Other cookware will come and go, but cast iron is here to stay. Built to last, cast iron is one of the best investments a cook can make because it's always possible to resurrect even the dingiest, most rusted cast iron pots and pans. But mention cast iron and people instantly think of Dutch ovens and skillets and not so much about the trusty cast-iron trivet.
What is a Trivet?
When you haul that hefty casserole straight from the oven to set on the table, it's a trivet that saves your table from the inevitable heat and condensation that can be so damaging. Some surfaces scorch easily, especially wood and especially under hot cast iron, and it's the trivet's job to make sure this doesn't happen. Over the years, trivets have been made of all kinds of materials, from braided mats to IKEA's cheap-and-cheerful cork basics. Scour vintage shops and you'll find all kinds of trivets made of ceramic tiles, cloth-covered bottle cap arrays and more.
But Why Cast-Iron Trivets?
When thinking about cast iron, you probably picture a kitchen where a whole lot of cooking is done — whether it's a rustic granny's kitchen or a semi-pro chef with a six-burner gas range who loves entertaining friends. But cast iron has been used for everything from campfire cookouts to all-day braising over a wood-fired stove. Cast-iron trivets are designed for the modern kitchen but also those hardworking cooking environments that never go out of style.
Imagine a fall weekend camping in the hills, surrounded by nothing but nature and silence, with a fire going and a pot of chili cooking low and slow right in the fire. When that cast-iron pot comes out of the fire, are you comfortable sitting it on a cork trivet on top of a wood picnic table? You'd probably prefer a cast-iron trivet, aka a trivet iron rest.
People who have wood-burning stoves in their homes can tell you just how incredible they can be at providing sufficient heat to keep a whole home toasty. But those wood-burning stoves can do more than that — they can also provide a hot enough surface for braising stews and other meals.
There can be hot spots, though, and placing a trivet on the stovetop and then the pot on top can help meals cook more evenly or just be kept at a simmer. In fact, preventing scorching is one of the jobs listed when you check out examples online, such as the Lodge cast-iron meat rack/trivet.
Wait… Meat Rack?
This is a lesser-known trick with the cast-iron trivet — it's not just for use outside of the pot, it's for inside the pot too! And this is why you really want a pre-seasoned trivet, although you should probably season it again with a little oil upon buying one so it's easy to clean once you've used it inside a pot.
Cast iron is incredible for heat retention, but that can lead to the sad experience of scorching a roast cooked inside a Lodge cast-iron camp stove or Dutch oven. In those situations, the trivet becomes a "meat rack" by placing it inside the pot, then sitting a roast directly on top of the trivet/meat rack to suspend the meat just off the bottom of the pot. This ensures that it doesn't get direct heat from the pan's bottom but still cooks thoroughly.
In this kind of use, though, the constant braising that could happen in some preparations can mean the trivet's seasoning is cooking off. You'll need to make sure you clean it properly — no scouring, nothing acidic and no soap — and then dry it completely and coat with just enough vegetable oil to give it a shine but not make it sticky. If you do, a trivet/meat rack will last a lifetime.