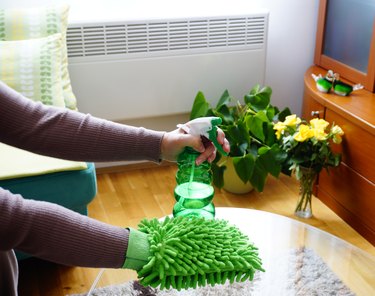 Pests are bothersome, and many commercial insect sprays and repellents that battle the flying or crawling unwanted guests can bug sensitive skin or be an issue for animals and children. A homemade bug killer is effective, affordable and safe to have around pets, infants and those with compromised immune or respiratory systems.
Vinegar is one of the best foundations of a homemade bug spray for mosquitos, ants, midges and more. Creating an effective mix for a natural insect repellent for the home is a fairly simple process that can be made with common household detergents and solutions.
Vinegar for Big Bug Problems
If a trail of ants has found their way through the walls and into your kitchen or around your outdoor play areas, then distilled white vinegar can wash away those type of pest problems. Take down a line of ants with a splash of vinegar. The vinegar will wash away the ants' scent that they follow and break up the never-ending line of bugs making their way to your door.
A mix of 1 part vinegar to 3 parts of water with a few drops of mild dish soap can help to control garden pests. Spray it on roses, vines and vegetables that have had an infestation of aphids, caterpillars or stink bugs. The soap will suffocate the bugs, and the vinegar will repel future attackers for a short time.
Spray this mix onto surfaces where bugs tend to congregate, such as at the base of patio tables, barbeques and lawn chairs. This will keep the bug population down, as well as the larger bugs, such as spiders, that prey on the cockroaches and ants.
Homemade Bug Spray for the House
There are a few effective bug repellents you can make with inexpensive products, most of which are easy to find at big box grocery stores.
Essential oils, such as eucalyptus, lemon, peppermint and neem, can be mixed with an acidic or oily carrier substance to create a mosquito or bug repellent that won't irritate most people's skin or breathing. Rubbing alcohol, vinegar, oil and other carriers will help to spread the scent and increase the effectiveness of essential oils. This can make your sensitive skin an unpopular place for mosquitos to want to aim for.
Homemade Mosquito Repellent for the Home
You can make a homemade mosquito repellent with vinegar. When mixed with essential oils that have shown to be effective for repelling mosquitos, apple cider vinegar is a valuable additive. Apple cider vinegar promotes the repellent activity of the essential oil and creates a slightly acidic pH on the surface of your skin.
An easy homemade mosquito repellent consists of a few drops of lemon eucalyptus oil and a neutral oil, such as olive or coconut. The citronellal and p-methane 3,8-diol in the lemon eucalyptus oil repel the mosquitos while the neutral oil helps to spread it over a wider area. Mix 10 ml of the lemon oil with 90 ml of the carrier oils and dab it onto exposed skin areas when heading outside.