Things You'll Need
Pressing cloth or fabric

Iron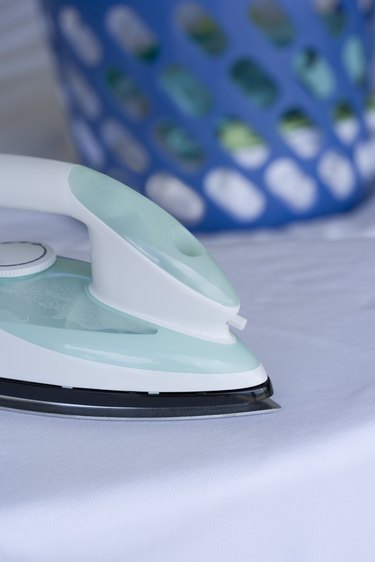 After unfolding a new tablecloth, you'll quickly notice those pesky creases. Even after washing and drying the tablecloth, they may still be there and with wrinkles too. Before you iron a polyester tablecloth -- which if done incorrectly may burn, melt, stain or shrink the fabric -- try rewashing and drying it in a manner that reduces wrinkles and helps get rid of creases. Then, iron only if necessary.
Step 1
Wash the polyester tablecloth in warm water, using the permanent press wash option.
Step 2
Dry the tablecloth in the dryer. It should not be overcrowded or it will wrinkle. Set the dryer on the permanent press setting.
Step 3
Remove the tablecloth immediately after the dryer stops. Straighten out the tablecloth with your hands and hang it over a clothesline, chair or railing so the wrinkles and creases settle, which usually takes about three or four hours. If any wrinkles or creases remain, proceed to the next step.
Step 4
Turn the tablecloth on its backside on an ironing board. Lightly spray the tablecloth with water and place a pressing cloth or piece of plain cotton fabric, such as a white pillowcase, on top.
Step 5
Set an iron on the synthetic fiber setting and iron out the remaining creases and wrinkles. Continue to spray the tablecloth one section at a time as you iron it. The pressing cloth or fabric should always be between the tablecloth and iron to protect the tablecloth from any damage.
---
Melissa Lewis is a former elementary classroom teacher and media specialist. She has also written for various online publications. Lewis holds a Bachelor of Arts in psychology from the University of Maryland Baltimore County.