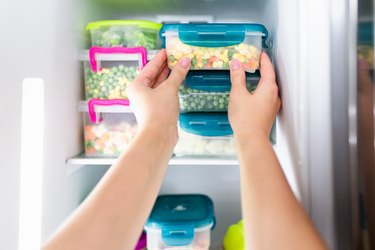 Your freezer holds all the meals for another day, and sometimes gets packed full of leftovers and various food packages. The freezer is useful and allows families to have healthy meals in minutes by keeping leftovers and packaged foods frozen until ready to cook and eat. Using freezer dividers can help keep a full freezer well organized.
When the freezer compartment is well organized, it makes it easier to quickly reach what you need for dinner, know what you have on hand for last-minute healthy and home-cooked meals and save energy by creating better air flow around the frozen food. There are a few ways to organize a freezer, either using store bought bins and dividers or creating your own from freezer-friendly materials.
Chest Freezer Organization Hacks
Small, plastic milk crates are compact, sturdy and affordable, making them ideal freezer bins for using in the tight confines of the cold freezer compartment. They can typically be found at dollar stores and big box home improvement stores. Fit the milk crates on the freezer shelf snugly to keep boxed frozen foods stored together. Don't cram them in or they may crack.
Buy the crates in different colors to delineate between types of foods. They can hold roasts, cuts of meat, kids' popsicles or other family favorite frozen foods without succumbing to the harsh environment inside the freezer. For larger freezers, larger crates can hold vegetables separate from meats and frozen packaged foods.
Reusable Grocery Bags
The many cloth and recycled plastic bags we receive from the local markets can also be used to hold large cuts of meat. A turkey, holiday ham or weeknight roast can go straight into the freezer after being tucked into the thin, reusable grocery bag. Label the handles as well as the sides of the bag and simply pull out when ready to roast. The bags will keep well in the freezer and be ready to reuse once you've cooked the frozen food. Use rubbing alcohol to remove the ink left behind from labeling the bag.
Making Freezer Dividers
You can make simple freezer dividers with thick cardboard, foil and plastic wrap. Measure the inside of the freezer cabinet from side to side and top to bottom. Cut the thick cardboard to slide into the freezer, cover with foil and then a final layer of plastic wrap. Edge the dividers into the empty freezer compartment and nestle the food around them to keep them in place. To make them more stable, cut notches in the cardboard and fit them together like a grid before sliding the dividers into the freezer to create a compartment divided into six or eight spaces.
Tips for Freezer Storage
Vegetables frozen in plastic bags can be filed side-by-side horizontally or neatly on top of each other vertically so that you can quickly pull them out to prepare. Always label the food before placing it into the freezer so it can be found and recognized quickly. This will cut down on rifling through clear bags with nondescript contents or piles of white vegetable bags that all look the same from the grocery store.