It's easy to keep your rooms clean if you have a Bissell steam cleaner for all the carpets and furniture in your home. Using a steam cleaner is an effective and environmentally friendly way to kill germs and keep carpets looking brand new, even if you have a house full of wobbly wine glasses, muddy pets or unruly kids.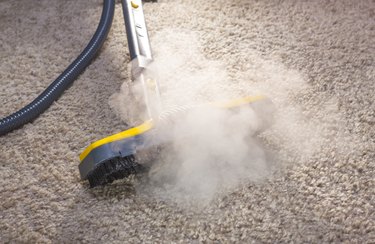 Advantages to Steam Cleaning
Often, a regular vacuum cleaner or stain remover doesn't do enough to keep carpets and upholstery completely clean. Vacuuming removes dust and lint, but it doesn't kill many germs, meaning your couches or carpets could be teeming with bacteria. There are products you can use to remove those germs, but they are often full of chemicals, ammonia or bleach. Those chemicals could be even more dangerous than the bacteria itself or could be too harsh to use on delicate upholstery and carpeting.
A Bissell upholstery cleaner and steam machine is a great alternative to those products. Because of its heat, steam kills 99 percent of bacteria without using any toxic chemicals. And since it's just water, it won't damage surfaces like carpeting.
Bissell Carpet Cleaner: How to Use
Bissell carpet cleaner instructions are very easy to follow. First, you'll need to prep the appliance. Most Bissell steam cleaners have two tanks that are easy to extract from the appliance and fill with liquids right from your sink. Remove the water tank from the upright cleaner by lowering the machine's handle until it is parallel to the ground, then lifting the tank out by its handle. Take that tank to the sink and fill it with clean water. Then, put the tank back in place.
Fighting Deep Stains
On the back side of the Bissell floor finishing machine is the formula tank, which you can fill with different types of Bissell cleaning formulas based on your cleaning needs. If you are simply giving floors or carpets a routine steaming, you might not need any additional formula. But if you are working to remove tough stains or grease, you can check out some of their formulas designed to deep clean and remove spots. If you have stains made from pets, you may want to consult your Bissell ProHeat pet manual for guidance on the best type of formula.
The formula tank is smaller than the water tank, and you remove it simply by lifting it out of the appliance. Fill it with the formula of your choice. Bissell formulas are designed to be ultra concentrated so a little bit goes a long way. Put the formula tank back into the machine, then plug the machine into a nearby 120V electrical outlet.
Then, check out the dials on the base of the steam cleaner. You should see that you can turn the knob to the setting you want, whether that's for a heavy, normal or light clean or one without any formula. Adjust the dial to the appropriate clean. Finally, start cleaning the floors or carpeting in the same way you would with a regular vacuum. When you've finished, unplug the device and empty whatever liquid is left in the tanks. The result should be floors and carpeting looking as good as new.