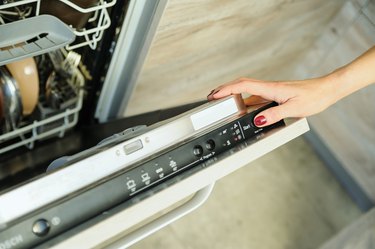 It's not always the first choice, but it is one of the more effective ways to get a dishwasher to operate at its full cleaning potential.
Borax is not only effective and easy to find in most grocery store laundry aisles, it is safe for dishwashing and laundry.
Using Borax in the Dishwasher
Borax in the dishwasher works well to clean out the nooks and crannies of the tub, filters and spinning water arms. It's safe and makes glassware sparkle by the end of the cycle. You can run a load of dishes in the machine while the borax works to clean out the tub and filters.
To use borax in a dishwasher, load it with dirty dishes and add a 1/4 cup of the powdered cleaner to the bottom of the appliance. Add your normal dishwasher detergent or homemade version to the dispenser and run on the normal cycle.
Benefits of Using Borax for Appliance Cleaning
Borax uses are abundant for many appliances. Using borax in laundry loads will clean the clothes and give the tub a quick wash, as well. It's gentle enough to clean clothes without irritating skin for most people and is environmentally safe.
Borax can also deter pests when sprinkled around the ground of washing machines or outdoor appliances that can attract ants and cockroaches. Run a 1/4 cup and up to 1 cup of borax through washing machines once a month to keep them clean.
Homemade Dishwasher Detergent
Affordable as it is effective, homemade dishwasher detergent is shockingly simple to create with household detergents and pantry items. It can take down soppy slicks of sauce, chunks of clingy food and other hardened bits that stick to dishes, glassware and utensils.
Load the dishwasher as usual, and then put the following measurements of ingredients into the detergent cup of the dishwasher. This recipe can be quadrupled and added to 4 cups of warm water, and kept under the sink for a few weeks for a handy homemade dishwasher detergent that should wash about 10 loads. The recipe calls for ½ teaspoon of mild liquid dish soap, 1 ½ tablespoon of baking soda and 1 teaspoon of salt.
For truly dirty or dingy dishes, you can add a bit more baking soda or salt. Just be careful about adding too much of the liquid dish soap or you may have a floor filled with suds from the dishwasher. Run the dishwasher on the regular cycle with a 1/4 cup of vinegar poured into the base of the tub to serve as a rinsing agent.
Maintaining a Clean Dishwasher
Once you've worked so hard to clean out a dirty dishwasher, you want to keep it running at its full potential. The pay off of those pretty, gleaming glasses and pristine plates is a great reward. Keep the dishwasher working well by cleaning it once a month.
A 1/2 cup of borax in the dishwasher can scour the tub and all those moving parts. Run it empty on a quick wash cycle to get a good clean every month.
Citric acid in a dishwasher can also wipe away a good month's layer of grime and keep the appliance running well. A cup of vinegar in a cycle every day won't hurt the machine and works as a natural rinsing agent for dishes.