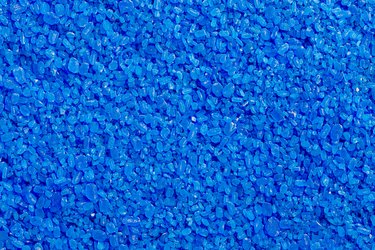 One sure way to ruin the beauty of a pond or lake is to let it develop a thick, slimy layer of algae. Copper sulfate, otherwise known as copper sulphate or CuSO4, is commonly used as an algaecide to kill algae in bodies of water, though its long-term efficacy is up for debate.
Once your lake, pond, or pool has been restored back to its glistening, pristine, algae-free state, you may have extra copper sulfate on your (gloved) hands. Direct contact with this compound can cause severe adverse health effects, and improper disposal can damage the environment.
What Is Copper Sulfate?
Copper sulfate is an inorganic compound combining copper and sulfur. Also called cupric sulfate or blue vitriol, copper sulfate is the most commonly used copper compound, and it's frequently used as a water treatment to control algae. But it's also on the market for these uses:
Fungicide
Food additive
Wood preservative
Pyrotechnic ingredient
Textile ingredient
Electroplating ingredient
Copper sulfate is almost immediately recognizable for its striking blue color, and it's commonly sold in crystal and fine-powder form. It kills algae and fungi by binding to their cells and damaging them, causing the organism to die.
Is Copper Sulfate Hazardous?
While the Environmental Protection Agency has not administered a carcinogenicity rating to copper sulfate, the compound's health risks and hazards to humans are well known. Direct contact can cause severe skin and eye irritation. One-time exposure to the skin may cause a rash, and repeated exposure can cause the skin, hair, and teeth to turn a greenish color.
Symptoms related to inhaling copper sulfate include irritating and burning the nose and throat, coughing, and damage to the septum (the bone and cartilage separating the nasal passages inside the nose). If ingested, copper sulfate can cause headache, nausea, vomiting, and diarrhea. Ingestion may also cause liver dysfunction.
Due to the acute and chronic health effects from contact with copper sulfate, wearing personal protective equipment is a must.
Protecting Yourself From Copper Sulfate
First and foremost, read the packaging on the copper sulfate product and follow all directions for use exactly.
Avoid all skin contact by wearing gloves, protective clothing, and other personal protection (like goggles) when using copper sulfate. Don eye protection with side shields to guard against any particulates. Wear a respirator or mask to prevent inhalation.
After you're finished using copper sulfate, remove contaminated clothing and wash it or dispose of it (if disposable) immediately to prevent cross-contamination. Prevent ingestion of copper sulfate by removing the clothing and gloves used while handling the compound and washing with soap and water thoroughly. Never eat, drink, smoke, or touch the exposed skin of others while in clothing contaminated by copper sulfate.
If there's a spill, be extremely careful when cleaning up. Sweep it gently into an empty container with a soft-bristle broom, avoiding agitation as much as possible.
Finally, keep others safe by properly labeling containers housing copper sulfate and storing them in an area that cannot be reached by children or animals.
All copper sulfate products are required by the EPA to have a "practical treatment" or "first aid" section with a safety data sheet as well as regulatory information, exposure controls, and first aid measures to take if exposed to copper sulfate. Follow these instructions (and get some fresh air ASAP), seek medical attention, or contact poison control at (800) 222-1222 after any exposure to copper sulfate.
How to Dispose of Copper Sulfate
The best disposal method for getting rid of copper sulfate is to use the compound, following package ratio instructions, until it's gone. You can also give the product to someone with lake, pond, or pool property who can use it.
Otherwise, you'll need to dispose of copper sulfate by contacting your local household hazardous waste facility. Because it is a corrosive pesticide, your local HHW may or may not be able to collect the waste. For example, in Atlanta, Georgia, there is no collection program for household hazardous waste. Instead, residents are directed to contact a hard-to-recycle-materials facility. This waste disposal facility, called CHaRM, directs residents to make sure that pesticides are in their original container with no leaks.
If you're not able to find your local household hazardous waste center, contact your state's environment protection division or the regional EPA office. These agencies will provide transport information and instructions on how to dispose of this particular hazardous waste.
Tip
If you have a small amount of copper sulfate, you can neutralize it. Dilute the copper sulfate powder or crystals in a bucket filled with plenty of water (it should be a blue liquid). Then, displace the copper ions by adding steel wool. You may need to add multiple pieces of steel wool to displace all of the copper ions until the water is clear. The copper ions will attach onto the steel wool, which you can dispose of in the trash. You can rinse the resulting clear solution down the drain.
Can I Pour Copper Sulfate on the Ground?
Do not pour copper sulfate on the ground. People can be harmed from copper sulfate waste poured onto the ground, particularly when runoff reaches the sewage system as well as bodies of water that feed water treatment plants. Plus, it's extremely harmful to aquatic life.
Even though copper naturally occurs in the environment and is essential to health in the human body, too much copper in the drinking water is hazardous. The CDC places the acceptable soluble copper level in drinking water at 1,300 parts copper per billion parts of water (ppb), though your state may have a lower regulatory guideline.
The EPA expressly states that copper sulfate waste products, whether intended for terrestrial or aquatic use, should not be disposed of directly in waterways and that runoff from the substance may be hazardous to fish ecosystems. Too much copper sulfate in an aquatic environment can kill the plant life and also cause the fish to suffocate due to depleted dissolved oxygen.
Can I Recycle or Toss Copper Sulfate?
Do not dispose of copper sulfate in your regular garbage or recycling. Because the substance can cause acute irritations with contact or inhalation, placing a container in the garbage would be dangerous to everyone who comes in contact with your trash on its way to the landfill. Check your local guidelines and expect to treat copper sulfate as a hazardous waste substance.