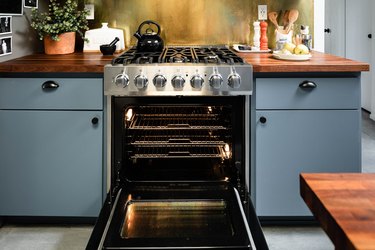 For decades, home cooks have been using Pyrex glassware and praising it for its versatility. The product seemed almost perfect, until news stories that reported exploding Pyrex dishes began to circulate. Many people began to question the safety of their cookware.
Although it's true that Pyrex is oven-safe, it's not as indestructible as you may think. Stay safe by understanding exactly what Pyrex can and can't do.
What Is Pyrex?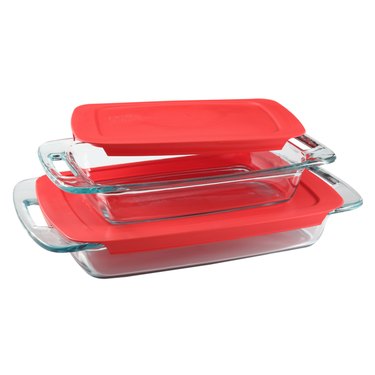 Pyrex is the brand name for a special type of glass developed by the Corning Glassware Company in 1915, according to the Pyrex brand website. Its name is derived from the components used when making the glass. However, Pyrex now makes their product with soda-lime glass, which is cheaper than borosilicate glass. "Our storage dishes are made from soda-lime glass. The same glass that Pyrex(r) has used since 1945," writes a consumer care employee when answering a question about the glass.
Pyrex Temperature Capacity
The heat capacity of Pyrex is truly impressive. When asked if Pyrex has a maximum temperature, a consumer care employee answers, "There is no maximum temperature for the glass bases as long as the oven is completely preheated before putting the dish in and the rest of the Use & Care is followed." Therefore, as long as you follow these safety guidelines, and the ones that come with your specific product, 400 degrees should be okay when using Pyrex.
The Use & Care guidelines are as follows:"Pyrex® Glassware can be used for cooking, baking, warming, and reheating food in microwave ovens and preheated conventional or convection ovens. Pyrex Glassware is dishwasher safe and may be washed by hand using non-abrasive cleansers and plastic or nylon cleaning pads if scouring is necessary. This product is intended for normal household use only; it is not intended for camping, industrial or commercial use. Plastic lids are for microwave and storage use only, and are BPA free."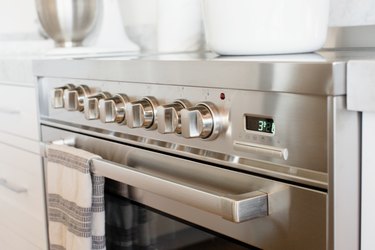 Pyrex Has Limits
It's true that Pyrex will tolerate both hot and cold, but it can't do both at the same time. Pyrex can go from the freezer or fridge to the oven, but the trip needs to be a long one. Sudden changes in temperature can shatter any glass, including Pyrex.
Always preheat your oven before placing your Pyrex dish inside it.
Do not use Pyrex® glassware on the stovetop (open flame, electric burner), under the broiler, in a toaster oven, or on a barbecue grill.
Before cooking items that may release liquid (including fat, food juices, or moisture from frozen foods) in your Pyrex® glassware, add a small amount of liquid to cover the bottom of the dish before you put it in the oven. This serves to minimize any potential sudden temperature change that may occur as the food releases liquid. Once a Pyrex dish is already hot, do not add liquid to it (for example, by basting with liquid not already in the dish). Adding liquid to hot glass may compromise the product's strength, potentially resulting in breakage.
Avoid placing a hot Pyrex® dish directly on a countertop or wet, cool or metal surface. Place it on a dry cloth or potholder, or on a wooden trivet or cooling rack.
Allow Pyrex® to come to room temperature before immersing in water or placing in the freezer, refrigerator, microwave, or pre-heated oven.
Don't use Pyrex® to microwave popcorn or heat foods in browning wrappers.
Don't heat empty or nearly empty glass containers in the microwave. When heating oil or butter in the microwave, heat only for the minimal time required — don't overheat.
In Case of an Accident
When users follow all of the safety instructions provided by Pyrex, shattering dishes are less likely. Breakage is possible, and like all glass, Pyrex may break if dropped or banged against a hard surface.
If you do break a Pyrex dish, wear close-toed shoes and thick gloves when cleaning up the glass. Do not attempt to repair the item. Exercise extreme caution when handling broken shards. Inspect your kitchen thoroughly even when you think you're done cleaning — broken glass can sometimes travel farther than you think.
Always discard any food that was in a Pyrex dish when it broke. Shards of glass you can't see could make their way into the food itself and harm you or your dinner guests if consumed.
The Pyrex Warranty
According to the Pyrex Warranty, "Corelle Brands LLC promises to replace any Pyrex glass product that breaks from oven heat, and any Pyrex non-glass accessory item with a manufacturing defect, within two years from the date of purchase.The owner must follow the Safety and Usage Instructions provided with the product. Please contact our Consumer Care Center for warranty claims. Keep the product. You may be asked to return it." You can find a Warranty Request Form here.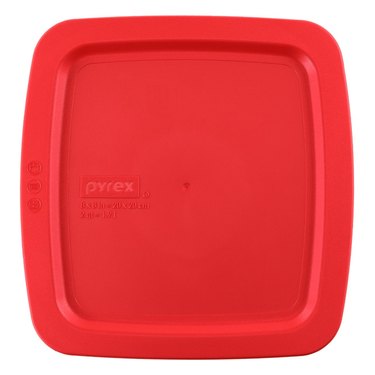 Pyrex's Plastic Lids
The above information about use and care only applies to Pyrex glass, not the lids that accompany the glass. According to Pyrex, "Plastic lids are for microwave and storage use only, and are BPA free."
Top-Rated Pyrex Picks
---
Home is where the heart is, and Michelle frequently pens articles about ways to keep yours looking great and feeling cozy. Whether you want help organizing your closet, picking a paint color or finishing drywall, Michelle has you covered. If she's not puttering in the house, you'll find her in the garden playing in the dirt. Her garden articles provide tips and insight that anyone can use to turn a brown thumb green. You'll find her work on Modern Mom, The Nest and eHow as well as sprinkled throughout your other online home decor and improvement favorites.
View Work