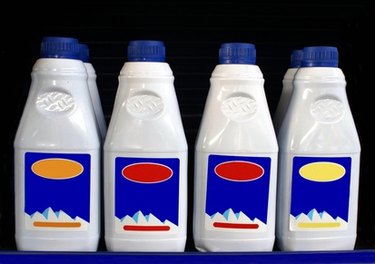 Antifreeze, also called coolant, is made of chemicals that can keep the water in your car from freezing in cold weather or overheating in the summer. These hazardous chemicals should not be dumped down a sewer drain. Because antifreeze is poisonous and can harm plants, animals and people if exposure occurs, care must be taken to properly dispose of used antifreeze. The proper disposal of antifreeze includes the proper disposal of the liquid's plastic container.
Step 1
Do not rinse antifreeze containers after use. Because of the toxicity of antifreeze, it is not advisable to rinse a container or attempt to recycle it. If you do choose to rinse a container, make sure that you dispose of the rinse water in the same way you would dispose of used antifreeze.
Step 2
Do not put the antifreeze containers in the recycle bin. Because of cross contamination issues between the antifreeze containers and those that contain food, it is important to keep these containers separated. Putting them in the recycle bin will contaminate all containers in the bin.
Step 3
Throw antifreeze containers in the regular trash. Even localities with strict mandatory recycling laws allow plastic antifreeze containers in regular trash. To minimize contamination issues, wrap the antifreeze container in an extra plastic bag before disposing.
---
Kimberly Turtenwald began writing professionally in 2000. She has written content for various websites, including Lights 2 You, Online Consultation, Corpus Personal Injury and more. Turtenwald studied editing and publishing at Wisconsin Lutheran College.