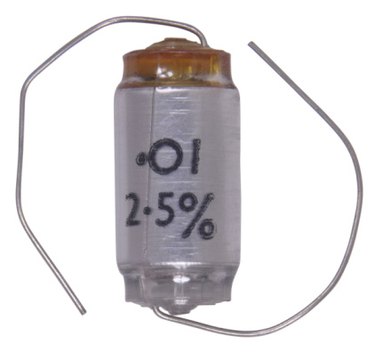 Capacitors are used to store electric charges. In most cases, you can treat old capacitors as you would any other electronic device or component in terms of recycling or safe disposal; however, capacitors manufactured and used before 1979 are likely to contain a highly toxic chemical, such as polychlorinated biphenyl, which was used as an insulating dielectric fluid. In the case of pre-1979 captors — or capacitors of unknown age or origin — you must hand them off to an approved recycling facility. Your state department of environmental affairs can help you locate an approved facility.
Step 1
Visit the Environmental Protection Agency's website to locate an electronics recycling program that serves your community.
Step 2
Contact your local government if you cannot locate an appropriate recycling program in your area. Many local governments have a department, committee or point person who acts as a resource regarding environmental affairs and issues.
Step 3
Contact your local garbage disposal service to ask about electronics recycling options. Although most sanitation services do not themselves offer recycling services for electronics, they often maintain a list of resources for the public.
Step 4
Call or email local charities if you are trying to recycle unused capacitors. Many charities have a retail or job-training division that might be interested in obtaining capacitors in working condition.
---
A writer and professional lab assistant based in Seattle, Kate Bruscke has been writing professionally about health care and technology since 1998. Her freelance clients include "The Seattle Times," KGB.com, Reading Local: Seattle, Nordstrom and MSN/Microsoft. Bruscke holds a Master of Fine Arts from The School of the Art Institute of Chicago.