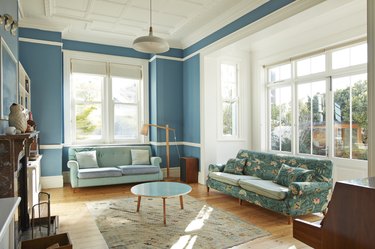 Laminate flooring can be toxic if the wood-bonding adhesive and top layer contain and emit harsh chemicals like formaldehyde. Formaldehyde is toxic when it comes to your overall health, so you have to be aware if your laminate toxic flooring levels are high. Consumers have forced the industry towards making safe laminate, but if you think there's formaldehyde in your home, you need to act swiftly.
What is Formaldehyde?
Formaldehyde is present in a lot more things than expected. It has been used in home products and even in wood flooring, detergents, paint, fabric and wallpaper. Formaldehyde occurs naturally in the environment, but it can be both dangerous and safe. It really depends on the amount of exposure and how much is in a product.
At low levels, formaldehyde can irritate the eyes, nose, throat, skin and can even trigger asthma attacks. The World Health Organization's International Agency for Research on Cancer considers it to be a human carcinogen. That means you should try to reduce the amount you're exposed to.
Lumber Liquidators Laminate Flooring
Many people didn't know that formaldehyde was in laminate flooring until 60 Minutes reported on laminate flooring from Lumber Liquidators. This increased laminate wood flooring health concerns among consumers. The laminate flooring emitted formaldehyde levels that were several times higher than California regulations allow.
Eventually, Lumber Liquidators agreed to continue free testing on laminate floors that consumers purchased. However, Consumer Reports decided to run their own study on a variety of wood flooring products. Two of these products were laminate flooring. The study's purpose was to find out if any of the wood and laminate floorings that were being sold were considered a formaldehyde hazard.
This study, which lasted a year, concluded that the laminate flooring had higher formaldehyde emissions compared to the prefinished solid-wood flooring. Consumer Reports found that the laminate flooring mostly likely had glues or resins that emitted formaldehyde.
Consumer Reports did note that the formaldehyde levels varied among different products, even in products that were engineered from the same laminate plank. It's difficult to pinpoint if these findings were universal, though. When they conducted the tests, they did so in homes, with less controlled conditions, which means that many sources could have added to the various degrees of formaldehyde. When it comes to testing formaldehyde, it's sometimes tricky to isolate the cause.
Updated Formaldehyde Laws
On July 27, 2016, the U.S. Environmental Protection Agency finalized a rule to reduce exposure to formaldehyde vapors from certain wood products that were produced domestically and imported into the United States. According to the U.S. Centers for Disease Control and Prevention, not all laminate flooring releases high levels of formaldehyde, and there is non-toxic linoleum flooring. Also, if laminate flooring did produce higher levels of formaldehyde, over a couple of years, the levels would decrease. If your flooring is new, though, and you have concerns of formaldehyde, you need to have your house tested.
Laminate Wood Flooring Health Concerns
If your floors are emitting strong chemical odors, you're having trouble breathing or experiencing irritation, you need to get your home tested. The only problem is that tests aren't always clear-cut. Do-it-yourself test kits are available, but the Environmental Protection Agency recommends that you have an expert come in and test your home for formaldehyde.
It is expensive to have a qualified professional test formaldehyde levels, but it's better to hire someone that has the training and equipment to check formaldehyde levels in your home. The only con is that the tests won't tell you where the formaldehyde is coming from in your home.
---
Allanah Dykes is a freelance writer and her work has been featured on Elite Daily, Levo League, Popsugar, Complex, Gurl, The Kitchn, HelloGiggles, Revelist, and Food 52.
View Work