Oxalic acid has many uses, but it is widely used as a wood bleach because it removes stains without removing the natural color of the wood. It can be used on spots on furniture, like dark water marks, and it can be used to remove stains from larger areas of wood like floors and decks. Oxalic acid is toxic and should be used with care. Use eye protection, rubber gloves and protective clothing when using oxalic acid and dispose of it according to directions. If used properly, oxalic acid is highly effective in renewing wood to a beautiful natural state.
Step 1
Clean the wood thoroughly with wood cleaner and strip all paint and finish down to the bare wood.
Step 2
Mix the oxalic acid crystals or powder with the recommended amount of hot water. For stains, use 12 to 16 ounces of acid per gallon of water, and use 3 to 5 ounces of acid per gallon.
Step 3
Apply the mixture liberally to the stain using a brush, mop or rag, depending on the size of the job.
Step 4
Let the acid dry completely. If the stain remains, continue with further applications of acid, letting it dry completely between stages.
Step 5
Mix 2 tbsp. of borax for each quart of water and apply to the wood after the stain has been removed or the wood has been bleached to the desired color. This will neutralize the acid.
Step 6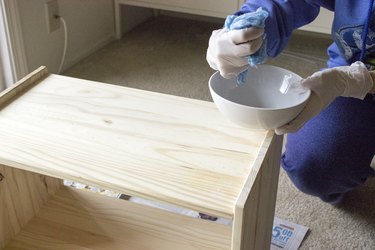 Allow the borax to dry. Rinse the floor thoroughly and allow it to dry.
Step 7
Rub a clean dark cloth over the wood. If there is white powder residue on the floor, rinse with water again and allow the floor to dry.
Step 8
Sand the wood lightly to smooth it after all remnants of the bleach has been removed.