Over time, and especially after a few seasons of heavy weather conditions, window screens can get battered and dirty, end up with holes or go loose around the edges, letting in anything from ants to wasps to mice. Though we often forget about them, window screens should be cleaned when dirty and replaced or patched up if significant holes develop. Thankfully, removing a window screen is a simple process, whether you're working with a traditional single-hung sliding window, a double-hung window or something else entirely. The procedure for removing the screen works about the same regardless of window style, but there are some slight differences to account for during the process.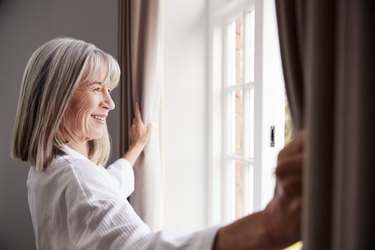 Sliding and Single-Hung Windows
Removing the screen from single-hung and sliding windows is an easy process. To do so, open your window as far as possible, then press the window screen up towards the top of the window. Tug on the screen tab or tabs, which are usually found at the side or bottom of the window screen, then push outward to unhook the screen from the window frame. You can then rotate the detached screen to bring it in through the window.
Casement Windows and Full Screens
Though casement or crank-out windows don't open the same way as traditional sliding windows, removing their screens is just as simple as with sliding windows. Simply locate the tabs on either side of the screen and pull both to pop the screen out from its frame, allowing for easy removal. This also applies to full-window screens on any window type, though some brands of flexible full-window screens will require you to pull from the sides and squeeze the screen to compress it enough to remove it from the window.
Removing Screens From Double-Hung Windows
Double-hung windows, while nice in their ability to open from the top and the bottom, have slightly different window screens than many other window types. They're similar to full screens and casement window screens but with more securing points. Before removing screens from double-hung windows, open the window from both ends, allowing access to both the top and bottom of the window screen. Next, find the tabs at the top and/or bottom of the screen. Pull them both in at once and push outward to pop the screen out of the window, repeating at the other end of the screen if necessary. You'll then be able to clean or replace your window screen.