If there's no zip in the curtain cord when it's expected to pull up the otherwise sturdy slats or flowing curtains, the entire system doesn't have to be yanked out and replaced. Eventually, the cords in a curtain's pulley system will begin to wear from the friction caused by drawing them open and shut. Grab a ladder, a few tools and a bit of time to get this project underway.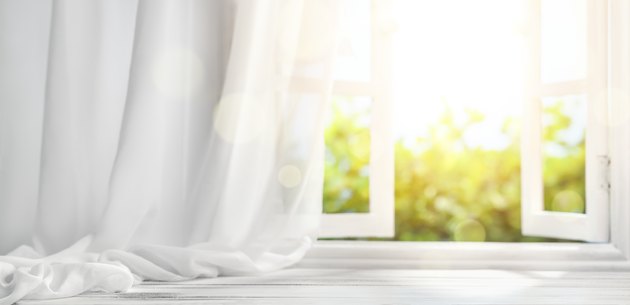 credit:
fotohunter/iStock/GettyImages
How to Measure for Cord Length
First, measure the entire length of the curtain rod across the top of the window, then the distance from the rod to the floor. Double the length from the top of the assembly to the floor and add in the distance along the top of the rod. Add at least 6 inches to that number to give you room to work. Double that final number to arrive at the total number of inches you will need the new cord to be.
Traverse rod systems all work in the same way basically . Cords can get tangled inside the rods over time as they thin in places or become brittle and break. When replacing the cord, pay attention to how the traverse rod system is removed and replace the assembly by working backward.
Unscrew the brackets that hold the rod in place and take the rod down. Pull the cord from the rod, cutting it free from any tangles. Place the rod with the hardware facing up and feed the new cord under the top pulley on the left end of the rod. Maneuver the new cord into the rod's track and through the opening. A safety pin or paper clip attached to the end of the cord can provide a bit of weight to help it travel through the rod. Work the cord into the sliders and under the master carrier that slides along the rod. Maneuver it through the first hole on the top of the carrier and tie a double knot to keep it from slipping back into the rod. Take the unknotted end and place it between the two pulleys, then glide it under the sliders. Push the cord under the master carrier and second carrier, and bring it up through the first hole before feeding it back down through the right hole in the carrier. Keep the cord in the track as you place it under the remaining sliders.
When replacing a cord, you can change out the current faulty one with a colored cord to offer more vibrancy to the assembly. The new cord can be thicker, adding a touch of aesthetic to the curtains, if the entire assembly is taken out and replaced. Standard curtain sizes run 63 to 120 inches, with 84 inches being the most common length. Throughout the installation process, pair the screws with the brackets as you remove them so you don't have to scramble for the correct screw when reinstalling the assembly.