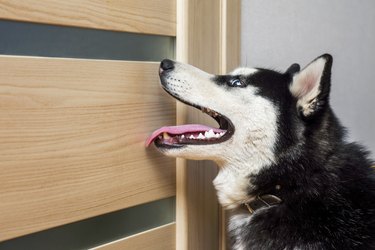 Wooden door scratch repair is an easy, affordable way to make an entrance look like new again. While you could buy a new door, it's not difficult to repair scratched doors for a fraction of the cost. Fixing wood scratches doesn't require many tools or extensive woodworking knowledge. You can even repair multiple scratched doors in a single afternoon.
Preparing for Fixing Wood Scratches
Before you can begin removing dog scratches from a wood door, assess the extent of the damage. Though dogs scratching doors is a common problem, every situation is different. Some dogs scratch deep grooves, while others might only chip away a thin layer of varnish. Wooden door scratch repair is possible in most cases, but some require more elbow grease than others.
To repair dog scratches on a door, you'll need sandpaper, but fixing wood scratches sometimes requires a bit of wood filler too. If you can clearly see holes and cracks in the surface of the door, you'll want to use wood filler.
How to Repair Dog Scratches on a Wooden Door
Step 1: Lightly Sand the Damaged Area
Your project begins with buffing out the grooves and scratches. Use medium-fine to fine-grained sandpaper (100 to 150 grit) to gently buff away scuffs and marks. The deeper the groove, the coarser the sandpaper required to repair the door. Once the scratches are buffed away, sand very lightly in the adjacent undamaged area to blend.
Step 2: Wipe Away the Sawdust
Fixing wood scratches can get dusty. Use a clean tack cloth to wipe away dirt and sawdust.
Step 3: Fill Cracks and Deep Scratches With Wood Filler
Sometimes, you can repair scratched doors without filling cracks or missing chunks, but in the case of grooves that are too deep to buff away, a wood filler can help.
Use a putty knife to scoop out wood filler and fill dents, cracks, or deep depressions. Next, flatten and smooth the filler with a putty knife, wiping away excess as needed. After the filler has dried to the touch, sand it with your coarsest sandpaper. Then, use finer-grit sandpaper until the wood filler is level with the wood around it.
Step 4: Sand the Damaged Area Again
Now that your wooden door is scratch-free, it's time to prepare it for a fresh finish. Use 320-grit sandpaper to create a smooth surface for a fresh coat of paint or stain.
Step 5: Clean the Area Again
There may be a thin film of dust on your wood door. Using a new tack cloth or the clean side of the tack cloth you already used, wipe the surface until it is clean.
Step 6: Apply a Fresh Coat of Paint or Stain
Now, it's time for the finishing touch. To fully repair scratched doors, you need to make the door look like new again. If you no longer have the door's original stain or paint, visit your local hardware or paint store. Take a few samples home to color-match and choose the product that will blend best with the rest of the wood door.
Use a paintbrush to apply paint or stain to the previously damaged area. Keep the area well ventilated until your freshly repaired wood door has dried.
Tip
Whether your door is stained or painted, remember to use a finish that matches the current sheen. Paints and wood stains are typically available in satin, semigloss, or glossy sheens.