Things You'll Need
Drop cloth

220-grit sandpaper

320-grit sandpaper

Wood filler

Putty knife

Tack cloth

Paint or stain

Paintbrush
Tip
If the door will be stained instead of painted, take a close-up photo of the wood, or get a color chip from a home improvement store to match the color. Mix two or more stains together if necessary to get the closest match.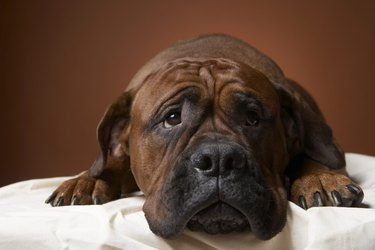 Dogs may be man's best friend, but their claws are not at all friendly to wooden doors. A dog's claws are much harder than wood. When anxious pets scratch at doors to come in or get let out, their claws will eventually leave unsightly marks at the sides and bottom of the wooden door. Dog lovers can opt to install doggy doors or train dogs not to paw at the doors, but in the meantime, repairs need to be made to remove those ugly scratches and restore the wood to its former beauty.
Step 1
Place a drop cloth under the door to protect the flooring.
Step 2
Sand down the scratches. Sanding can be done by hand or by using an orbital sander. Hand sanding takes more effort, but it provides better control over how much of the wood is being sanded off.
Step 3
Wipe down the sanded areas with a tack cloth to remove sand particles.
Step 4
Dip a putty knife into wood filler and scoop out as much as necessary to make repairs. Apply the wood filler to the sanded areas, smoothing off the excess. Allow it to dry according to the time recommended on the label.
Step 5
Sand down the wood filler until it is smooth and level with the surrounding area. Start with 220-grit sandpaper. After a few passes, change to finer 320-grit sandpaper to further smooth the wood.
Step 6
Clean the sanded area with a tack cloth.
Step 7
Apply paint or stain to the affected area of the door. Keep the door open until it has completely dried.
---
Lee Weal began writing and editing online content as a corporate intranet administrator in 2000 and was also the publisher and editor of a monthly employee newsletter. Her articles specialize in children's issues and home improvement.