Garage door openers do the heavy lifting for you, so you can enjoy convenience every time you get home without stepping foot outside when it's raining, hot or otherwise uncomfortable. But openers aren't all the same, which means you need to know which size is right for your situation. Buying an opener with extra power wastes money on unnecessary horsepower. Going too small can be just as wasteful if it can't handle your garage door because of the additional wear and tear on the motor. Figure out what you really need to balance functionality and cost.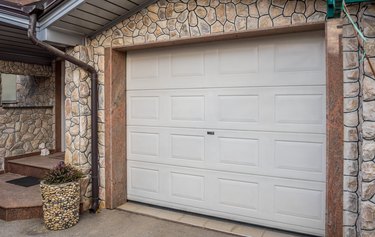 Evaluating Your Garage Door
The characteristics of your garage door heavily influence how much horsepower your opener needs. A door that's heavy or large needs more power to efficiently lift it. The size and weight of the door help you figure out what size of opener you need.
Measure the width and height of your garage door with a tape measure so you know what you have. Single garage door openers generally do fine with smaller openers, while double doors may need a little more horsepower. Doors that are 10 feet wide by 8 feet tall are single-car garage doors. Doors larger than this are considered double-car garage doors.
Next, consider the garage door material. Although the door springs balance the weight and do the actual job of lifting the door, some doors are heavier and need more power behind them from the actual opener. Wood doors are heavier than standard uninsulated steel doors, for example, and generally need a more powerful motor. Insulation on any type of door adds weight and may require a larger opener.
Comparing Horsepower Options
Garage door openers typically range from 1/3 to over 1 horsepower. An opener with at least 1/2 horsepower is common for residential use. Look for an opener that has the horsepower necessary for your garage door size based on size and weight. A 1/3-horsepower opener can handle most doors 10 feet wide by 8 feet tall made of lightweight material, such as uninsulated steel. Average-weight double doors and heavier single doors work well with 1/2-horsepower openers. If you have a wooden or insulated double-car garage door up to 16 feet wide and 8 feet tall, you may want to move up to a 3/4-horsepower opener. For doors that are more than 16 feet wide or very heavy, an even large opener that's 1 horsepower or higher can reduce strain on the motor.
Considering Drive Types
Your garage door opener decision also need to take the drive type into consideration. Single-car garage doors can use a belt, screw or chain-driven opener without damaging the motor. Screw and belt-driven openers are less noisy than chain openers. Chain openers, on the other hand, are less difficult to repair for the average homeowner. Double-car garage doors should have either screw-drive or chain-driven openers.
Choosing an Installation Type
Decide whether you want to install the opener yourself or have it professionally installed. Self-installed openers use rails that come in three pieces that you assemble. A professional model has a one-piece rail. Though there is no difference in the strength or durability of either rail, assembling the rail correctly is vital to the proper operation of the opener. Most homes are now pre-wired for openers, which makes the task of hooking up the opener sensors and wall button less difficult for the do-it-yourself homeowner.