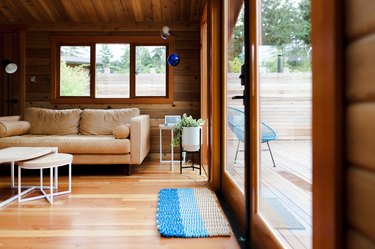 A finished basement is just like the rest of your home — a finished space with drywall, carpeting, and other features of a livable space. That means it should be just as comfortable with the same humidity level as the rest of the house. The basement humidity ideal level for a finished basement is 30 to 50 percent to keep the space comfortable and to protect your belongings.
Why Humidity in a Finished Basement Matters
Whether you use the finished space as a living area or for storage, controlling the basement humidity level helps prevent damage. Low humidity levels aren't really an issue — they might make the space feel dry and uncomfortable or leave you with minor health issues, like dry skin or occasional nosebleeds, but they won't cause serious damage to your home. High humidity levels, on the other hand, can promote mold and mildew growth on items that are stored in the basement, particularly soft and natural materials, such as drywall paper, carpeting, upholstery, and window coverings. Controlling the relative humidity in your basement can prevent mold growth and damage.
How a Finished Basement Stays Dry
A properly finished basement has features in place that keep it dry and within the ideal basement humidity range. Features that keep your basement dry include:
Foundation waterproofing
Gutters and perimeter drains to direct water away from the foundation
Proper grading of surrounding soil to send rainwater away from the house
Sump pumps to remove excess water
Insulation and air-sealing on basement walls to prevent condensation and keep out cold and damp air
Moisture barriers
Thermal windows
Carefully selected wall and flooring materials
Connection to the heating and cooling system
With those safeguards in place, basements often stay within the recommended humidity range. Depending on the sources of humidity affecting your basement, you may need one or multiple of these features to keep your basement dry.
Humidity Sources in a Finished Basement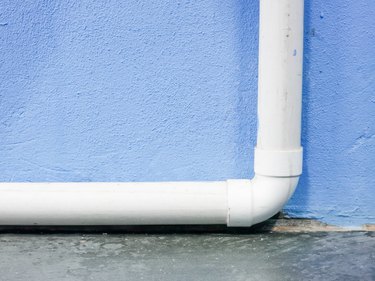 Even with proper building and finishing methods, basements can have sources of moisture that increase the humidity beyond the recommended levels. Some potential sources of moisture and humidity in your basement include:
‌Poor landscape drainage:‌ If the landscaping directs water toward your foundation, the water can seep through the walls and cause excess moisture.
‌Gutter downspouts:‌ Gutter downspouts that empty near the foundation or get trapped and pool around the foundation can increase the level of humidity in your finished basement.
‌High water table:‌ Some areas have higher water tables, which naturally increase basement moisture levels.
‌Poor ventilation:‌ If your basement has poor airflow, excess moisture can build up with no way to escape.
‌Plumbing and appliances:‌ Showers, washing machines, and other items inside your home that use water can create excess humidity. If your laundry room is in your finished basement or you have a bathroom on that level, using those spaces regularly could cause high humidity.
How to Monitor Humidity in a Finished Basement
It's not always easy to spot moisture issues in a finished basement. You can't see condensation on concrete block walls, for example. You can often feel the dampness in a basement if there's a lot of excess water. Other signs of humidity issues include:
Musty odors or the smell of mildew
Peeling or bubbling paint or wallpaper
Water stains
Visible mold growth
Frequent condensation on various surfaces
Allergies or respiratory problems, which can be caused by mold
An easy option to monitor humidity is with a hygrometer, which is a simple tool that tells you the relative humidity level in the air. Keeping one in your basement makes it easy to monitor humidity on a regular basis. It also helps you tell if your efforts to maintain basement humidity ideal levels are working.
How to Deal With High Humidity in a Finished Basement
If your hygrometer shows a high level of humidity in your lowest level, taking action quickly can help you get things under control before mold growth sets in. How you lower the relative humidity level in your finished basement depends largely on what's causing the issue — not all options will work in every situation. Some possible solutions for moisture buildup in your basement include:
‌Repair plumbing leaks:‌ Leaky plumbing can cause direct water damage to your finished basement, but it can also increase overall humidity. If you suspect you have a leak, call a licensed plumber to find and fix it.
‌Improve ventilation:‌ Improving ventilation in your basement can help keep things dry. Install exhaust fans in basement bathrooms and laundry rooms if they don't already have them. Opening windows can work sometimes, but opening them when it's humid outside will only make the problem inside worse.
‌Correct gutters and downspouts:‌ Proper gutter and downspout maintenance, including cleaning your gutters regularly, can help control basement humidity. Position downspouts so they empty away from your foundation. Watch for things like sidewalks or landscaped areas that block water from flowing freely and cause it to back up against the foundation.
‌Change the landscaping or grading:‌ If you have landscaped areas against your foundation, ensure that the ground slopes away from your home to keep water moving away from your foundation. Gravel around the foundation can improve drainage for additional moisture control.
‌Install a whole-house dehumidifier:‌ Integrated into your HVAC system, this is an easy dehumidifying option if you constantly deal with high humidity levels in your home, including in your finished basement. You can also use portable dehumidifiers if the humidity is confined to the basement. Choose a model that's sized for your basement's square footage to ensure it's effective.
‌Seal cracks:‌ If your foundation has cracks and gaps, sealing them can keep moisture out of the basement.
Calling in professionals to help with these repairs can ensure they're done correctly. For instance, professional plumbers can help with moisture issues related to your plumbing or appliances, while an HVAC pro can improve your heating and cooling system or connect a whole-house dehumidifier to your system. Basement professionals can help with foundation repairs and other humidity control methods.
How to Maintain Ideal Humidity in Your Finished Basement
Once you correct the root cause of the high humidity levels, maintaining the optimal levels helps you avoid future issues. Some ways to do this include:
Running a dehumidifier as needed to keep moisture levels lower
Using exhaust fans while showering or doing laundry
Opening windows for ventilation when it's not humid outside
Maintaining your plumbing system to prevent leaks
Changing HVAC filters and maintaining the system regularly to keep it running optimally
Monitoring the humidity levels and being aware of your activities can cut down on the risks of mold, mildew, and other damage due to excess moisture in your finished basement. It makes your extra living space comfortable and functional.
Tip
Running an air conditioner may also help lower the humidity in your finished basement while also cooling the space, so that it's comfortable even when it's warm out. But keep in mind that this won't dehumidify the space as much as a portable or whole-house dehumidifier would, so only consider this option if you have minor humidity problems.