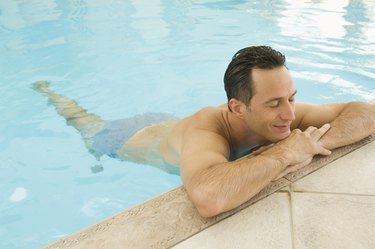 Rheem residential pool heaters have large air coils, a high capacity pan for better air flow and heating, a scroll compressor and a digital control panel. The pool heat can be controlled from the digital control panel and an on-board diagnostic tool informs users if there is a problem with the heater by displaying an error code. The SNS error code indicates that one of the pool heater sensors is not working and some troubleshooting is necessary.
Step 1
Use a pool thermometer to check the pool water temperature, which should be between 36 and 95 degrees Fahrenheit to determine whether the water temperature has moved out of sensor range, which is between 36 and 95 degrees Fahrenheit.
Step 2
Clean the water temperature sensor, which is on the filter pump, with a cloth slightly dampened with rubbing alcohol. Allow the sensor to air-dry.
Step 3
Reset the circuit breaker by turning the circuit breaker off and then back on. Wait five minutes for the Rheem pool heater to power back on and the "Power" light on the control panel to illuminate.
Step 4
Press "Set" on the control panel until "Pol" or "Spa" appears on the control panel display. Touch the "Up" arrow to increase the desired water temperature if the pool is too cold or "Down" if the pool is too hot. Wait five seconds after the new temperature is selected and then the display will show the actual current pool temperature. Allow several hours for the pool temperature to change sufficiently.
Step 5
Contact Rheem for service if the SNS error appears after troubleshooting efforts have been made.