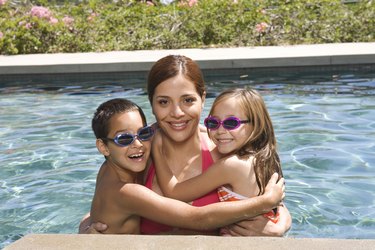 Although you normally clean your pool with a manual pool vacuum or a vacuum device often called a "creepy crawler,'' you can clean it with a standard wet/dry shop vac. The disadvantage to this method is it takes a long time because you have to repeatedly empty the water from the shop vac. The very big plus is the dirt and debris in the pool can be dumped directly into the grass, as opposed to sending it through the pool filter.
Shallow Ends
Step 1
Place your wet/dry shop vac as close to the pool as possible without the danger of it accidentally falling into the water.
Step 2
Attach any extensions to the hose of the shop vac. Attach a piece on the last attachment that is good for vacuuming flat surfaces.
Step 3
Vacuum along the walls and bottom of your pool in any areas you can reach with the shop vac.
Step 4
Empty the shop vac each time it fills up as you go along.
Deep Ends
Step 1
Insert the hose of a manual pool cleaner (or vacuum) into the opening on the side of your shop vac. This end of the hose would normally be placed into a drain that goes into the pool pump and tank.
Step 2
Insert the other end of your pool cleaner into the pool. This end has a wide attachment attached to the hose that is designed to go along the bottom of the pool.
Step 3
Suck up any dirt and debris along the bottom and walls of the pool.
Step 4
Empty the shop vac each time it fills up as you go along.