It caps the house and gives it character. It also protects the inhabitants of the home from rain, cold, wind and blazing heat. The roof does a lot of work completely unnoticed until it begins to let you know that it needs attention by the drip, drip, drip of rainwater that finds its way through loose shingles or by the sound of flapping and creaking from shingles that are no longer attached to your home's top. With a few calculations and an understanding of the roofing square of your home, you can have a well-crafted roof on your home that should last for generations with minimal maintenance.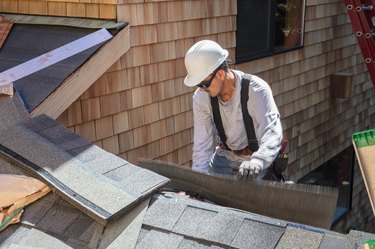 Asphalt Shingle Details
Asphalt shingles are the most common type that homeowners use to keep their home well insulated and secure from harsh weather. They come in a wide variety of styles, textures and colors from which you can choose. They are cost effective compared to cedar or tile and are rather durable. Modern asphalt tiles can resemble their more attractive counterparts such as wood, ceramic and slate. They are easier to install and repair over their long life atop your home. They are fire and wind resistant, and many manufacturers use recyclable materials for an eco-friendly product. Asphalt shingles with standard exposure should last a quarter century or more with little maintenance or repair needs.
What Is a Roofing Square?
A square of roof is approximately 100 square feet of space on top of your home, whether it runs at a slant, horizontal to the yard or vertically toward a chimney or gable. Asphalt shingles are sold in bundles that can cover 1/3 of a roof square, or roughly 33 square feet. A square of shingles would be a minimum of three bundles.
Use a Roofing Calculator
A roofing calculator can assist you in figuring out your exact shingle needs. Always buy more for insurance against issues that can arise when you are high atop a ladder and nearly done with a roofing job. If you plan to build your own ridge caps, make sure to include that in the bottom line of asphalt shingles you will need when you use a shingle calculator.
General Estimating Process
The asphalt shingles cost about $90 per square of roof. Therefore, a 2,000 square-foot home could run from $1,800 to $2,500, depending on the shape of the roof and the shingles that are used. Consider gable and hip roofs and the extra space needs they may require. Don't be afraid to buy too much, as you may find they are a handy material to have available. Make sure to include the insulation, such as 15-pound felt paper, in your calculations. Felt paper gives the shingles a good place to nestle into the roof structure and keeps the shingles in place for many years and through difficult weather.