Things You'll Need
Tongue and groove pliers

Phillips head screw driver

Flat head screw driver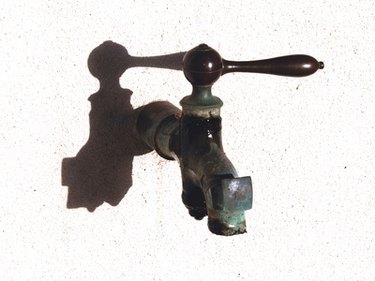 You have returned home once too often to discover your outdoor faucet running full blast, and you are tired of having a swamp instead of a yard. Taking off your faucet handle will keep it from being turned on without your knowledge. However, removing the faucet handle will not stop a leaky faucet. If a leak isn't your issue, go ahead and remove the outdoor faucet handle, but don't forget where you put the handle so you can turn your water on when you need to.
Step 1
Hold the outdoor faucet handle stationary. There are two types of outdoor faucets used on homes, either a Sillcock or a Hose Bibb. The Sillcock has a round handle while the Hose Bibb has a straight handle, like two ears. Use tongue and groove pliers to grasp the outdoor faucet handle in an area that you are most comfortable with so the handle does not move.
Step 2
Remove the screw from the outdoor faucet handle. Hold the faucet handle in place while using a Phillips head screw driver to remove the screw. Both the Sillcock and the Hose Bibb faucet's handles are held onto the faucet by one screw on top of the handle and directly in the middle. Turn the screw to the left to remove.
Step 3
Remove the outdoor faucet handle. Use a flat head screw driver to pry the handle off of the faucet stem from beneath the faucet handle. You will place the flat head screw driver in the small gap between the actual faucet and the handle, directly beneath the area that you removed the screw.