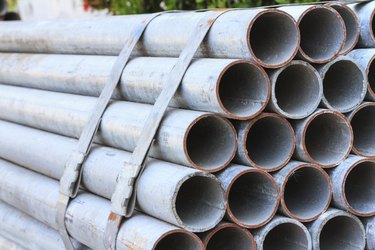 Galvanized steel can be made into a strong plumbing or tubing material -- one that resists corrosion from exposure to water or the elements. It has been used used for water-supply pipes or as a strong tubing for outdoor applications.
Galvanized Pipe
Galvanized pipe has been coated with a layer of zinc. The zinc provides a barrier against corrosion so that the pipe may be exposed to the outdoor environmental elements. The protective barrier proves equally effective against damage from indoor humidity.
Where It's Used
This type of pipe is used in a variety of settings. Prior to 1970, galvanized steel was utilized for water-supply pipes in construction. It is used in outdoor applications wherever the strength of steel is desired, such as fence posts and rails, scaffolding and as protective railings.
Interior Corrosion
When used as water pipe, the zinc barrier coating tends to react to the minerals in the water, often causing plaque to build up inside of the pipe. This impedes the water flow and, in severe cases, may lead to burst pipes. Galvanized piping is connected with threaded fittings that may also introduce leaks into the plumbing if not properly fitted.