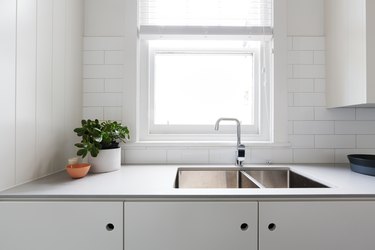 When the protective coating on a laminate countertop wears down, it can look dull and dingy. Aside from the aesthetic, the lack of shiny, protective coating opens the countertop to serious stains from coffee, tea, orange juice and other tinted foods. Instead of constantly scrubbing the countertop to keep it looking clean, take the time to seal the vulnerable laminate and return it to its former luster.
Tip
Bringing back the shine on old, dull linoleum requires patience to prep the surface and a good sealant.
Preparing the Laminate for Sealing
The laminate may look dull and exposed, but some preparation work will ensure a sleek, even layer of sealant. Prepping the laminate well also reduces the chance of bubbling or cracking of the coating over time.
Use a fine-grit sandpaper and hand sander to gently sand the entire length of the countertop. Be sure to pay attention to stains and corners. The countertop should be completely uniform in color and pattern. Wipe the countertop down with a wet cloth to remove fine dust and check for any spots that you may have missed with the sander. For difficult spots, the experts at Bob Vila recommend using a 320-grit fine sandpaper and sanding the countertop one more time before wiping down again.
Formica Countertop Sealer
Sealant is less expensive than replacing the entire countertop and can prolong the life of the laminate in general. There are many brands of inexpensive sealant for laminate to choose from. However, The Plywood recommends using a sealant that the laminate manufacturer suggests to bar any unseen issues.
A gel gloss for laminate countertops is a nonharmful, abrasive cleaner that removes pesky surface scratches and oxidation offers a protective wax coating and a high-gloss finish. On the other hand, an over-the-counter granite and natural stone cleaner works well too. Most cleaning agents of this sort have a blend of detergents, water spot removers, polishes and protective agents. A granite cleaner and polisher can bring up the shine on the laminate quickly and easily and offer a protective surface.
Sealing a Formica Countertop
A slick coating of sealant properly applied will make Formica waterproof, stain proof and otherwise impervious to the accidents and traffic of every day. A gel gloss for laminate countertops provides a high shine and protective coating. It can be brushed on for a thick, smooth layer or sprayed on with an easy-to-apply aerosol. Take your time when applying a clear coat for laminate countertops to get the best final result.
On a thoroughly clean surface, gently spread a layer of your chosen Formica polish or sealant over the countertop. Pour the liquid in small puddles and gently brush it out with a wide paintbrush or a clean, dry cloth in a thin, even layer. Allow the first layer to dry completely before applying the next coat. Typically, it can take two to three coats to truly return the shine to a dull and scratched laminate countertop.