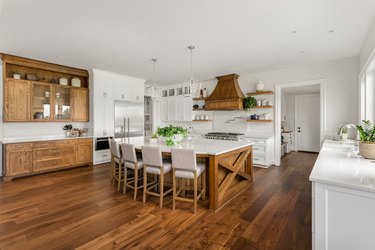 Signs of wear in a busy kitchen often first show up on the cabinet doors and facades. Peeling, bare patches or faded painted cabinets can be quite the eyesore. Revitalizing wood cabinets can change up the aesthetic as well as the mood of one of the most popular spots in the home.
Wood cabinet touch-up is a fairly simple task for common scratches and dings that occur. If the kitchen cabinet finish is coming off, then it may require a thorough restoration that involves sanding and re-staining or sealing.
Tip
For layers of peeling or large bald spots on cabinets, give the surface a good sanding before touching up.
Prepare the Peeling Cabinets
They may look grungy and beyond repair, but a quick clean and scrape will put those funky kitchen cabinets in the perfect position to be restored. For seriously peeling or damaged cabinet fronts, remove the doors before cleaning and prepping.
Wash the drawer fronts and cabinet facades with a mix of mild dish liquid and warm water. Use a mix of TSP, which is a cleaner that prepares wood for painting, and water for serious grime and greasy buildup. Get into the crevices and corners to remove any built-up gunk and dirt so that the new stain, paint or sealer will adhere well to the clean and dry surface.
Touching Up Wood Cabinets
For simple scratches and nicks, a colored wood marker can hide the imperfection. If the scratch is large, you can use different shades of wood markers to make the gouge less visible.
When using wood markers to color in obvious scratches and dings, it can be beneficial to add a layer of protection. Mineral oil or other lubricant that works well on processed wood can add a layer of water-resistant protection. This will also moisturize the wood surface and help to protect it from dust and debris settling into the natural fibers.
Kraft Maid suggests that the area be cleaned and buffed out before any paint or ink markers are applied to the wood surface. Shake the touch-up wood pen vigorously to get the liquid to glide onto the surface evenly.
Repair Scratched Laminate Cabinets
When the kitchen cabinet's finish is peeling, the integrity of the wood or laminate finish has more than likely been compromised. This can cause serious damage from water or make the kitchen cabinet surface vulnerable to dings and deep gouges, particularly in busy kitchens.
As long as the stained or painted cabinets are stable and the facade is the only problem, then whipping them back into a gorgeous state is relatively simple. Sand the cabinet doors, surrounding structures and frames until the finish has been removed. Wipe the cabinets down and allow them to dry thoroughly before applying any stain, sealant or paint.
Stain, Seal or Paint
A polyurethane varnish and stain combo can change up the hue and feel of the cabinets as well as protect them. Choose a stain that contrasts or highlights the flooring or paint in the room and apply a polyurethane varnish in even strokes for one to two coats. The more coats that you apply, the more protected the kitchen cabinets are and the longer they will not peel or discolor.
---
Kimberley McGee is an award-winning journalist with 20+ years of experience writing for a variety of clients, including The New York Times, Las Vegas Review-Journal Home section and other national publications. As a professional writer she has researched, interviewed sources and written about home improvement, interior design and related business trends. She earned a B.A. in Journalism from the University of Nevada, Las Vegas. Her full bio and clips can be viewed at www.vegaswriter.com.