Cracked resin (solid surface) sinks should be repaired right away to prevent leaks. Cracks can also spread out and further damage the sink. You may be able to use a two-part epoxy to fix some cracks. Solid surface repair kits are also available, but some deep cracks require a professional to fix the damage. Two-part epoxy or repair kits can be bought online or at some local counter-top shops. The repair kits come in a variety of colors, so your sink should look almost new when you are done.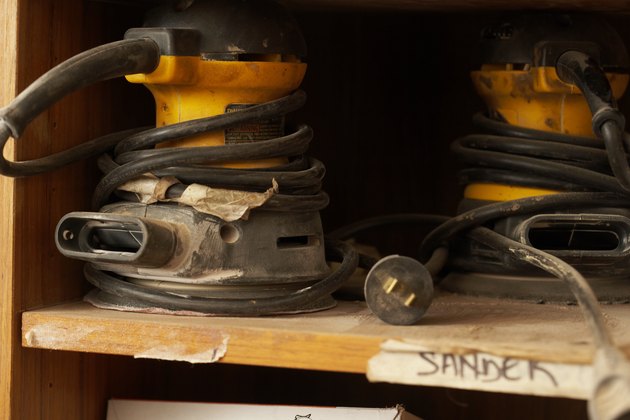 credit:
Jupiterimages/Photos.com/Getty Images
Two-Part Epoxy Resin Sink Repair
Step 1
Put on all protective gear.
Step 2
Clean the cracked area of the solid surface sink with a degreaser and clean rags. The sink must be free of all dirt, grime, soap scum for the resin repair to set properly.
Step 3
Place 400 grit sandpaper into the sanding orbiter. Sand the area, first with the 400 grit sandpaper; repeat the process with 240 grit and then 120 grit sandpaper. Vacuum up all loose debris. Clean the area again with degreaser.
Step 4
Cut off the end of the two-part epoxy tube. Squeeze the plunger until an even amount of hardener and catalyst comes out. Place this epoxy onto a small piece of cardboard or plastic. Mix the two epoxy components together, using a small stir stick.
Step 5
Apply the epoxy to the cracked area. Work it in place, using the stir stick, until the crack is full and even on the top. Let it dry overnight.
Step 6
Buff out the repaired area, using the orbiter sander, a buffing wheel and buffing compound. Let it dry for several hours.
Step 1
Follow Steps 1 to 3, in Section 1 (above).
Step 2
Separate the components in the kit. The kit will include a bonding agent, stir stick, small container, catalyst, spreader tool, color match paint and detail brush.
Step 3
Apply the bonding agent to the cracked area. You may have to brush it on; some kits have a spray can version. Let it dry several hours in a well-ventilated area.
Step 4
Apply the catalyst, using the spreader tool or spray it on if applicable. Let it dry for several more hours.
Step 5
Test the paint you believe to be the best match by applying a small amount to the sink area. If you need to adjust the color, mix in some white paint. Apply with the fine, detail brush. Let it dry overnight.